Feature
303 Battery: The World's First Net-Zero Energy, Multifamily Tower
December 16, 2021 | Steve Corcoran, VP Systems Division, Sustainable Living Innovations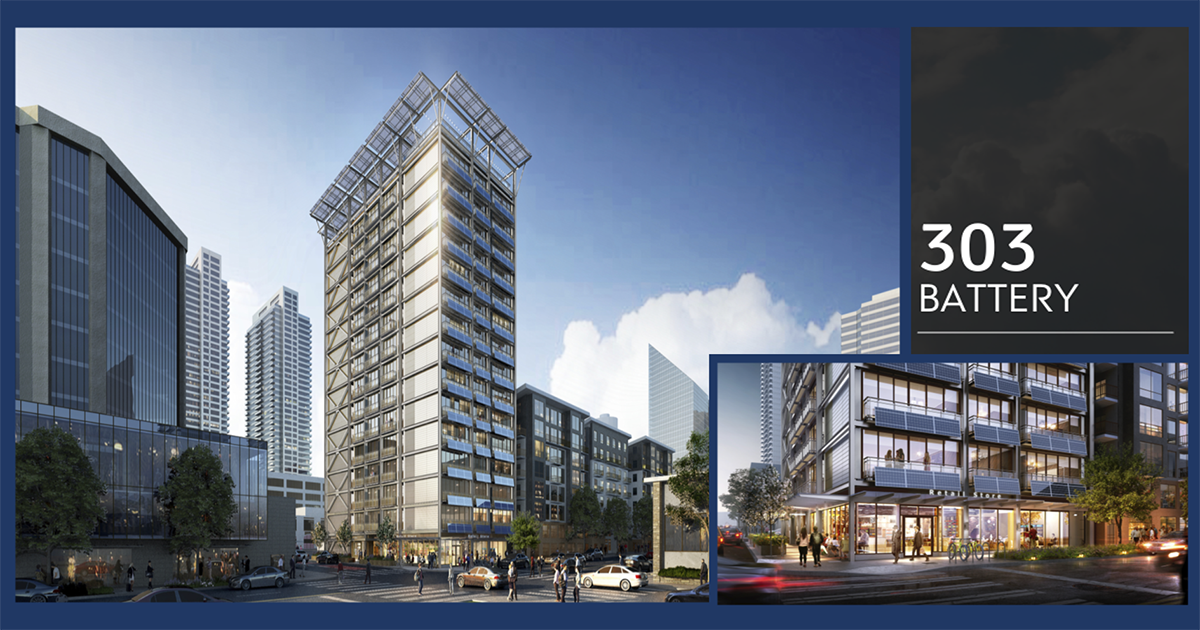 The future of construction tech is here. Prefabricated and modular, 303 Battery, the world's first net zero energy high-rise apartment building, is being assembled in Seattle's Belltown neighborhood. The turnkey, ultra-green multifamily tower is being built like a Lego set.
To do this, developer Sustainable Living Innovations (SLI), created a panelized building system where major parts and pieces of a building are manufactured offsite, saving money and resources. Each panel has a function and purpose and can be mass produced to reduce cost. Because there is less onsite construction work required, 303 Battery will go up more quickly than a conventionally built building; two floors can be constructed in a day.
According to The Urbanist, SLI's high-rise buildings are assembled from different pre-fabricated floor, wall, and ceiling panels placed into a steel exoskeleton. If you were to crack open one of these panels, inside you would find electrical wiring, plumbing, and mechanical equipment, including fiber optic cables. Together the prefabricated and modular construction system allows for a completely smart tech-enabled building that can be built primarily offsite in a factory where changes in the weather never slow down the progress of construction.
"Our proprietary technology, construction process, sustainable materials, and smart-living technologies give tenants a beautiful, comfortable home that produces no greenhouse gas emissions," said Arlan Collins, CEO of SLI. "Even though we announced a groundbreaking in June of this year, in reality, 85% of the walls, floors, stairs and elevators were already complete and in our Tacoma factory at that time. Now, all of the panels are complete and ready for installation. 303 Battery sets a new standard for building well-designed and sustainable living spaces."
Realcomm recently recognized 303 Battery at IBcon 2021, the intelligent buildings conference, with a Digie Award for Most Intelligent Multifamily Residential Building.
Pushing the boundaries with the latest high-performance building design, 303 Battery will deliver the highest levels of energy efficiency. When completed in the Summer of 2022, the 15-story building will feature ground floor retail and 112 units, with 27 of those units designated as affordable.
The building is the first multifamily tower to meet the stringent net-zero energy requirements set by the International Living Futures Institute (ILFI), which certified Seattle's Bullitt Center.
To generate as much energy as it uses, 303 Battery will include solar panels on its roof, exterior walls and balconies. Other sustainability features include underfloor radiant heating in units; captured rainwater and reclaimed graywater that will use one-third less water than a similarly sized structure; regenerative gear elevators, and daylight sensors to reduce power use throughout the building. 80% of the heat from showers in the building will be used for other hot-water needs. The air conditioning system will use 4% of the energy that a traditional system uses. Its basement will house a bank of lithium batteries to store power that can be used at night and when solar is not available. This onsite battery storage will also provide power during outages.
"Greenhouse gas emissions from the building sector are the second largest contributor to climate pollution, and our communities of color regularly bear the disproportionate brunt of its negative impact," said Mayor Jenny A. Durkan. "As a city, we must do all we can to invest in innovative solutions that reduce our dependence on fossil fuels. The 303 Battery building is on the leading edge of green design and construction, helping us to meet Seattle's climate goals and create a healthier city, while also addressing our affordable housing crisis."
With tenants' privacy a priority, the apartments will be equipped with SLI's proprietary SLI Connect. This software is a custom smart home application. It consolidates building system monitoring, reporting, and performance data into an insightful application. Tenants can monitor consumption metrics and control smart devices in their units.
Apartments will feature light-filled spacious design with floor-to-ceiling glass walls that open to private balconies in every unit. To enhance the living experience of residents and optimize the building's performance, each unit will be equipped top-tier smart tech features like integrated fiber optic internet and AI. Various smart technologies are also included to provide water leak detection, motorized door locks and remote control of lights and blinds.
In October 2021, the project hit a key construction milestone. With the sub-basement and foundation completed, the installation of what will be a total of 900 panels began at the site. Ten primary panel types will be used for walls, floors and ceilings of each room - living room, kitchen, bedroom, bathroom - and specialized elevator panels.
With its mission of setting a new standard of sustainable living utilizing technology and innovation, while addressing housing affordability, 303 Battery represents the building of the future.
More info: Watch the recent Realcomm Live interview with SLI's Steve Corcoran, who discusses the company's approach to managing and distributing solar, DC power and fiber in the building, along with their suite of applications that span the entire building lifecycle, providing unparalleled data and analytics to owners and operators.
This Week's Sponsor
Building Engines improves net operating income for the world's leading commercial real estate portfolios. Our customers increase revenue, deliver the best occupant experience, and reduce operating costs with Prism: CRE's most powerful building operations platform. Property teams rely on Building Engines to manage critical operational needs across more than 3 billion square feet and 30,000 properties worldwide.
Read Next