REALCOMM EDGE HOME
CURRENT ISSUE – OCT/NOV 2017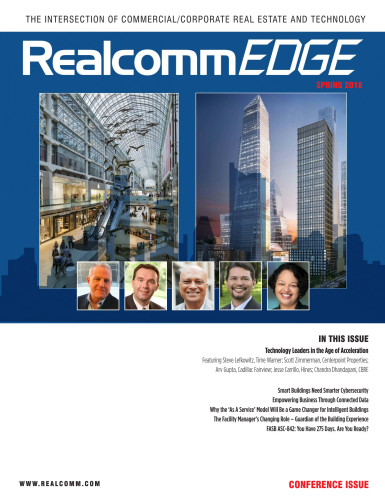 Click to read the digital version of the current issue.
The RealcommEDGE magazine is the only publication focused exclusively on technology, automation and innovation for the Commercial and Corporate Real Estate and Facilities industry. It provides readers with astute analysis and world-class case studies demonstrating the best use of technology for the industry.
Over the last decade, technology gains in energy efficiency, lighting, sustainability and other systems have become the new normal for today's corporate smart buildings and campuses. Improved data collection and analysis has led to larger converged systems and an incredible offering of automated solutions. Major investment in the newest advancements such as artificial intelligence, robotics, virtual reality and automated vehicles are opening new doors of possibility.
In the current issue, RealcommEDGE asked our CoRE Tech 2017 Advisory Council Co-Chairmen Mark Golan of Google and Mike Huaco of McKesson, two corporate powerhouses, for their perspective on the rapidly changing technology landscape and how they're managing the twin challenges of adoption and change management in their respective organizations.