REALCOMM EDGE HOME
CURRENT ISSUE – SUMMER 2022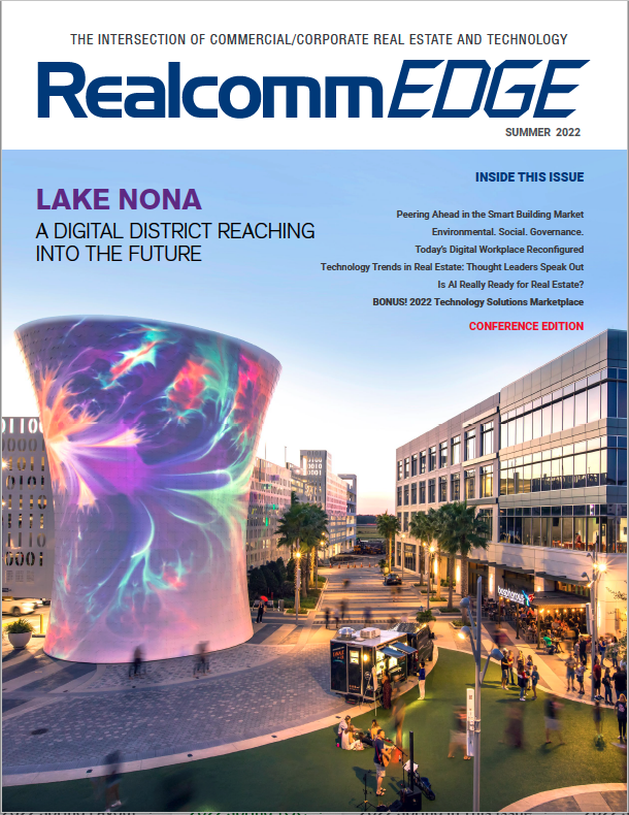 Click to read the digital version of the current issue.
The RealcommEDGE magazine is the only publication focused exclusively on technology, automation and innovation for the Commercial and Corporate Real Estate and Facilities industry. It provides readers with astute analysis and world-class case studies demonstrating the best use of technology for the industry.
Lake Nona: A Digital District Reaching Into the Future
Dubbed "A Community of and for the Future," Lake Nona is an example of one of the most advanced digital districts in the United States, if not the world. Lake Nona's advanced infrastructure and commitment to collaboration have attracted visionary companies and startups from across the globe to turn cutting-edge ideas into realities. Some of the differentiating innovations include a robust and comprehensive telecommunications strategy which includes both fixed and wireless technologies; a world class autonomous vehicle testing lab; the Wave Hotel, one of the most advanced in the world; and the WHIT House, a look into tomorrow's home.