Feature
Congratulations to the 2023 Digie Award Winners!
June 22, 2023 | Realcomm Staff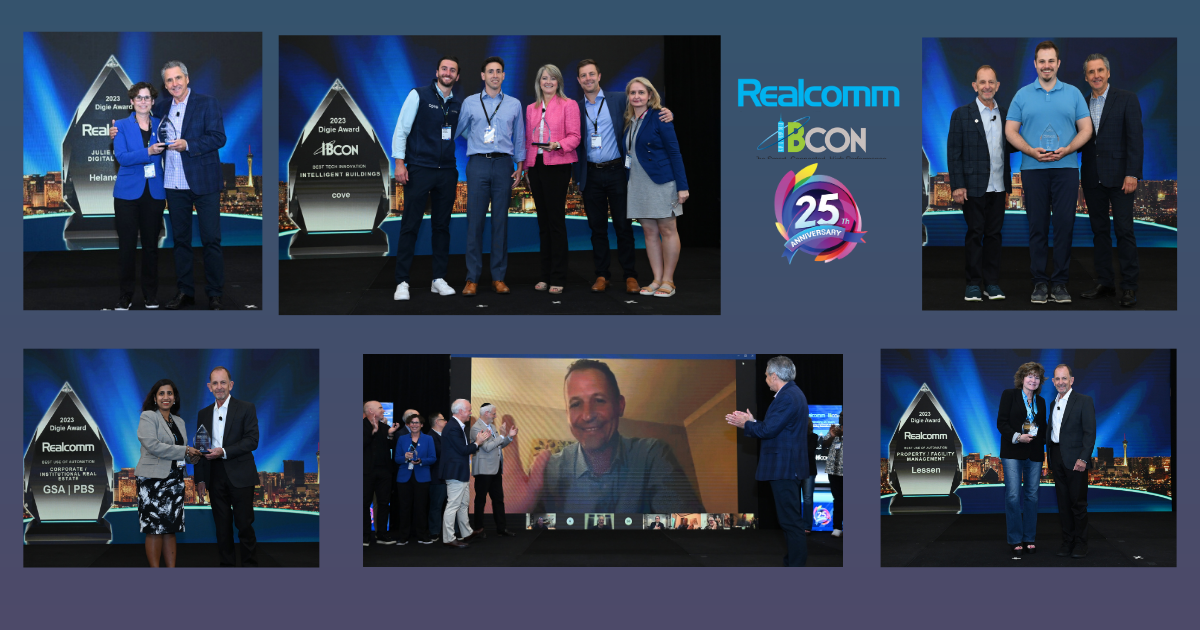 The Digie award winners were announced at Realcomm | IBcon 2023 on June 14 at Caesars Palace in Las Vegas. For 25 years, these awards have recognized real estate companies, projects and people that have gone above and beyond to positively impact and transform our industry using technology, automation and innovation.
The 2023 Digie award winners are:
REALCOMM
Best Use of Automation
Property | Facility Management: Lessen
Emphasizes strategic focus on facilities management and ESG solutions, delivering operational excellence, efficiency, and sustainability in real estate.
Cultivates a corporate culture that embraces data-driven insights and fosters innovation through cutting-edge technologies.
Constantly questions the status quo, leveraging technology to elevate value, quality, and efficiency in their portfolio of facilities services.
Commercial Real Estate: Inland Real Estate Group
Continuously explores innovative uses for AI and other cutting-edge technologies, unlocking unprecedented possibilities for advancement and growth.
Harnesses the power of GPT capabilities to enhance productivity, efficiency, and internal communication, driving organizational success.
Committed to adopting new technologies and discovering their potential applications, while sharing successful implementations with industry peers.
Retail: Agree Realty
Achieved projected portfolio growth by streamlining operations and eliminating manual trackers, enhancing efficiency and effectiveness.
Implemented a new commercial management platform, leveraging lease abstraction, integrations, and Power BI reporting, driving significant strides in scalability and efficiency.
Cultivates an innovation culture that fosters agility and creativity, empowering teams to address everyday challenges with novel solutions.
Retail: Phillips Edison & Company
Cultivates a corporate culture that values data-driven insights and embraces the adoption of innovative technologies for strategic decision-making.
Streamlined communications by automating leasing lead responses, enabling leasing agents to prioritize critical tasks more effectively.
Exhibits a commitment to educating internal departments and sharing conceptual ideas and innovations with the broader industry, fostering collaboration and progress.
Corporate | Institutional Real Estate: GSA | PBS
Constantly applies iterative learning to enhance employee engagement and experience, leveraging insights from their workplace experience lab.
Leverages innovative low-code technology to eliminate manual processes, optimize data integration, and drive process automation.
Achieved a 0% change failure rate and increased the number of releases by automating application installations and implementing a streamlined release management process.
Investment Management: BentallGreenOak
Embraces a digital strategy centered around automation and innovation-driven benefits, empowering the business and enhancing customer experiences.
Demonstrates a commitment to educating internal departments and sharing concepts and innovations with the broader industry for collective progress.
Optimized their enterprise technology stack strategy, streamlining processes and enhancing efficiency throughout the organization.
Industrial: Rexford Industrial
Revamped leasing process through streamlined operations and innovative technology, resulting in a remarkable improvement in efficiency and effectiveness.
Leveraged automation and process efficiency, expanding its industrial property portfolio from 20 million to 200 million square feet, while saving thousands of labor hours each year.
Embraces a digital strategy centered around automation and innovation-driven advantages, delivering significant benefits to the business and its customers.
Best Tech Innovation
Commercial | Corporate Real Estate: Dealpath Data Ingestion
Streamlined the extraction and ingestion of Offering Memorandums, reducing manual data entry and enabling deal teams to react instantly to new opportunities.
Constantly exploring new areas of opportunity, expanding their ability to deliver world-class solutions to a wider range of customers.
Formed strategic partnerships with industry leaders, offering clients enhanced visibility and insights to drive core investment strategies, underwriting, and performance.
Commercial | Corporate Real Estate: PremiseHQ
Seamlessly integrates with existing building systems, granting access to vital performance metrics for enhanced decision-making.
Utilizes advanced ChatGPT technology specifically designed for the commercial real estate industry, delivering exceptional capabilities and insights.
Employs a personalized and efficient tenant engagement approach, enabling clients to enhance service offerings and drive operational efficiencies.
General Technology: OpenAI – ChatGPT
Employs advanced natural language processing capabilities, revolutionizing human-technology interactions by seamlessly understanding and responding to user queries.
Streamlines complex processes using advanced algorithms, eliminating manual effort and elevating overall efficiency.
Empowers users with automated solutions in various domains, encompassing customer support, content creation, research, and data analysis.
Rising Star Award
Demonstrates an unwavering commitment to advancing the industry by openly sharing both successes and challenges, fostering meaningful conversations and driving collective progress.
Exemplifies an exceptional commitment to improving real estate processes through data-driven insights, harnessing the power of information to drive decisions and optimize efficiency.
Exudes unwavering passion and visionary leadership when undertaking technology projects, expertly navigating the intricate landscape of digital transformation.
Julie Devine Digital Impact Award
Demonstrates unwavering passion and vision, successfully navigating both technological and change management aspects of digital transformation.
Readily assists peers and generously imparts valuable insights drawn from her extensive years of expertise.
Exemplified tireless dedication to integrating technology at Brixmor, with a special emphasis on cybersecurity, resulting in remarkable process efficiencies and heightened productivity.
Drives innovation by continuously pushing boundaries, developing future-forward strategies and implementing cutting-edge technologies.
Generously shares his vision and experiences with the industry, offering valuable time and insights to empower others.
Valued as an esteemed thought leader and technology-driven visionary, tirelessly committed to elevating industry best practices to new heights.
Lifetime Achievement
Exemplifies an exceptional dedication to leveraging technology for enhancing real estate operations, driving innovation and efficiency.
Earns global recognition as a thought leader in smart building operations technology, setting industry standards and inspiring advancements.
Passionately shares industry knowledge with peers, advocating the transformative power of technology for the built environment and fostering collaboration.
IBCON
Most Intelligent Building Projects
Office Building: Vancouver Centre II
Building design guided by industry frameworks and certification systems prioritizes energy efficiency and visitor health and wellness.
Leveraging real-time insights from the Building Intelligence platform, GWLRA effectively manages day-to-day operational issues using a building technology stack that integrates 16 different cloud and on-prem data sources.
The tenant app solution's technology architecture enables GWLRA to offer tenants the flexibility to upgrade and extend app features within their own space.
Office Portfolio: Carr Properties
Consistently demonstrating a strong desire to vet and apply innovative new technologies to improve their commercial real estate processes and operations.
Developed a proprietary mobile app with tailored content and advanced integrations for each property, enhancing user experience.
Transformed an unused and un-leasable space into an innovation lab to test new technologies, showcase existing building tech, and foster ideation for future solutions.
Corporate Headquarters: Walmart Home Office
Drives a sustainable future strategy by strategically employing innovative building technologies to promote environmental stewardship.
Makes intentional investments in infrastructure and technology to enhance efficiency and enable healthier transportation options for the community.
Implements BIM and digital twins technology to monitor and optimize campus operations, ensuring efficiency and effective maintenance.
Digital District: Las Vegas Innovation District
Committed to pioneering new solutions, consistently piloting creative ideas to drive progress.
Acts as an exceptional proving ground for autonomous vehicles and next-generation wireless technologies.
Serves as a development hub for technologies aligned with city priorities, such as AI, virtual/augmented reality, cybersecurity, water science, advanced mobile data, and IoT.
Retail: Simon Property Group
Fosters a culture of creativity, utilizing emerging technologies to craft interactive retail marketplaces and elevate consumer shopping experiences both online and in-store.
Implemented Simon Search, enabling searchability of local, in-store products across shopping centers, retailers, and specific store locations.
Enhances the retail experience through cutting-edge technology like augmented reality and livestreaming showcases, creating captivating and immersive shopping environments.
Multifamily / Residential: Boxabl
Leverages a modular construction method that enables efficient manufacturing and transportation of housing units, saving time and resources.
Utilizes advanced materials and technologies to optimize energy efficiency and ensure superior structural integrity in construction projects.
Disrupts traditional construction practices by leveraging innovative design and efficient manufacturing within a controlled factory environment.
Mixed Use: The WELL
Showcases state-of-the-art smart building systems that optimize energy usage, prioritize occupant comfort, and streamline facility management processes.
Incorporates smart technologies to enhance connectivity and convenience, enabling seamless digital experiences for building occupants and users.
Utilizes data analytics to collect and analyze information from multiple systems and sensors, optimizing building performance, operational efficiency, and overall user experiences.
Best Tech Innovation
Hybrid Immersive Experiences: DVE Holographics
Creates transformative "collaboration destinations" that immerse clients and employees in dynamic environments, conveying brand messaging, organizational pride, and engaging holographic collaboration experiences.
Utilizes innovative technology to produce high-resolution images with wide viewing angles and real-time interactivity, enhancing visual experiences.
Pushes the boundaries of augmented reality communications, bridging the gap between physical and virtual presences for seamless interactions.
Intelligent Buildings: KODE Labs
Engineered a vendor-agnostic building management platform that maximizes efficiency in building systems, delivering significant operational savings.
Offers a unified interface to monitor, control, and optimize operations across the entire real estate portfolio, simplifying building management.
Guided by visionary leaders with extensive expertise, creativity, and an unwavering passion for innovation.
Intelligent Buildings: cove
Developed an all-in-one platform integrating access control, work order management, preventative maintenance, and tenant communications for streamlined operations.
Enhances operational efficiencies by offering comprehensive, real-time insights into individual and collective portfolio asset performance.
Motivated by the mission to build transformative software and enable experiences that revolutionize how people engage with their physical environments.
Rising Star Award
Continuously pioneers future-forward strategies and implements cutting-edge technologies, consistently pushing the boundaries of building innovation.
Demonstrates unwavering transparency by openly sharing both successes and challenges, fostering the industry's adoption of intelligent and secure building technologies through collective advancement.
Successfully delivered state-of-the-art buildings equipped with future-proof technology stacks, prepared to tackle any forthcoming challenge with resilience and adaptability.
Digital Impact Award
Demonstrates an exceptional dedication to enhancing real estate operations through the strategic implementation of technology.
Tirelessly advocates for the critical importance of cybersecurity in safeguarding the built environment.
Passionately shares valuable industry knowledge with peers, actively influencing and inspiring positive change within the industry.
As a visionary thought leader, drives the global development of next-generation smart building strategies, setting new industry benchmarks.
Inspires the industry through leading by example and a generous willingness to share expertise and experiences.
Developed an extraordinary vision for smart building technologies, spearheading transformation through IT/OT convergence and elevating Google global portfolio with innovative solutions.
Congratulations to the 2023 Digie award winners and nominees for your contributions in positively impacting and furthering our industry!
This Week's Sponsor
Yardi® develops and supports industry-leading investment and property management software for all types and sizes of real estate companies. Established in 1984, Yardi is based in Santa Barbara, Calif., and serves clients worldwide. For more information on how Yardi is Energized for Tomorrow, visit yardi.com.
Read Next