Print this article
What are the crucial elements for making a company run smoothly? The first obvious answer is people. Employees are the most important aspect of an organization and also the costliest. The second major component for success is the company buildings that house employees. After all, a safe, comfortable, enjoyable and engaging workplace is critically important to a functioning organization.
Providing a leading-edge workplace is a complex and difficult task, especially as business demands change. Some buildings are owned, some are leased, companies grow or shrink, some workplace functions become outdated, costs continue to rise, and keeping the occupants happy is an endless job. Managing these buildings involves a multitude of processes; from initiating and closing out maintenance requests to keeping track of leases, there are many moving parts and subsequently, many pieces of information.

One would think that in 2017, most corporations would have all of these processes in place, with data organized in comprehensive and sophisticated corporate real estate and facility information systems. Data flowing from process to process, alerts for important events, and providing strategic insight are all benefits that result from well designed and implemented integrated information systems.

Over the last 20 years, the industry has been struggling to get this data into the right systems and to deliver on the promise of automation. It has been said time and time again, "If you can't measure it, you can't manage it" and corporate real estate is no exception. The digital journey to organized real estate and facility data began in spreadsheets, moved to CAFM and CMMS systems, migrated to IWMS, then to point solutions, data warehouses, and now data lakes.

When you survey the corporate landscape, there is no single trend. Some firms have elected IWMS platforms as their foundation while others are combining best of breed point solutions around an open data architecture, once a warehouse and now a lake. However, there is no doubt that the Corporate Real Estate industry is not innovating to the proper levels with respect to data aggregation, integration and process automation. This is especially true when compared to the commercial real estate sector that continues to fine tune automation systems that have been around for 30+ years.

The industry is getting a little push through governance and is now being forced to get their data organized. FASB IFRS 16 Lease Accounting Compliance, which will be in full force by January of 2019 for public companies, is forcing companies to recognize all their leases for both real estate and equipment. While this seems like a simple task, the fact that many leases remained off books means companies are scrambling to get the data into the right system in order to satisfy compliance requirements.

While FASB will improve the state of data and process automation in the corporate real estate industry, why is the administrative push needed to accomplish this effort? With so much at stake, why has the industry been resistant to getting their information better organized?

After consulting with very experienced professionals in the industry, these are some of the reasons that were provided:
There has been a lack of a consistent commitment by the industry solution providers

Industry solutions have not kept pace with modern computing technologies i.e. cloud, mobility and software platforms

Industry solutions have been expensive and difficult to implement

Internal project leaders often leave before the project is completed

Solution providers change often and sometimes abandon previous automation efforts

Real Estate professionals do not possess the comprehensive IT skills required

IT departments have traditionally shown little interest in Real Estate automation

Real Estate departments have had difficulty in obtaining funding for automation

Complex Real Estate automation strategies have been difficult to develop
The following is an infographic developed by Realcomm over five years ago with the assistance of visionary corporate real estate and facility professionals. While it is not perfect and will continually need to be revised, the basic foundation of this illustration continues to be used as a strategic roadmap for corporate real estate and facility automation. It is worth noting that very few organizations have achieved this level of integrated automation.
Corporate Real Estate information strategies
will be front and center at
CoRE Tech 2017
in Silicon Valley on Nov. 14 & 15. IWMS best practice case studies, an investigation into traditional as well as new point solutions, and great debate on the merits of data warehouses (now data lakes) will all be part of this exciting program.
There is simply nowhere else in the world where true thought leaders and experienced practitioners will discover, discuss and debate the topic of corporate real estate and facility information management and process automation than at CoRE Tech 2017!
---
This Week's Sponsor:
AwareManager provides facility management solutions for the world's most recognized facilities and organizations, including world-class commercial and residential property portfolio management firms, corporations, sports organizations and hospitals nationwide. Visit www.awaremanager.com.
Next Week: @ the Edge
Realcomm News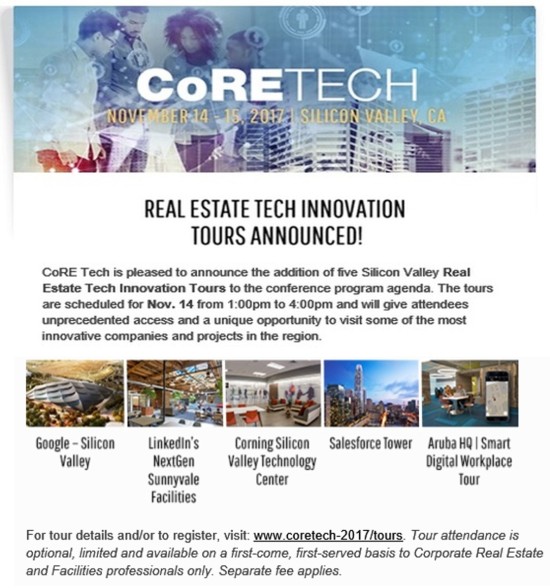 @ The Edge - CORPORATE Real Estate Leaders Talk Tech Innovation - 10/5/2017
There are many moving parts to owning, leasing and operating a Corporate Real Estate portfolio. With so much to streamline, combined with a multitude of solutions, developing a cohesive, comprehensive strategy is critical. This webinar will host some of the worlds most respected and successful thought leaders ready to discuss tech innovation for Corporate Real Estate.
Register now!
---