IBCON "DIGIE" AWARDS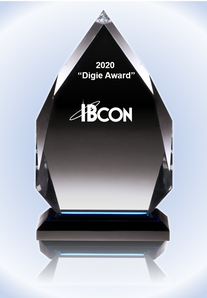 Realcomm | IBcon has been presenting the Commercial Real Estate Digital Innovation (Digie) Awards since 1999 to recognize outstanding companies, real estate projects, technologies and the next generation of smart, connected, high-performance, intelligent building systems. The Digies are also awarded to the individuals who have gone "above and beyond" to positively impact our industry and to the innovators who are improving our buildings, portfolios and cities through the application of technology, automation and innovation.
Today, we are living in unprecedented times. For the commercial and corporate real estate industry, the pandemic created a new set of unique challenges ranging from developing work at home strategies to making sure buildings are performing at the most optimum, healthy levels. As building owners and tenants respond to the new normal, innovative solutions are required for safe re-occupancy and productive work environments. In a very short amount of time, a multitude of technologies focused on making buildings safe and healthy have quickly entered the market.
In 2023, we will recognize those who are: leading the charge on strategic and transformational technologies, creating a more efficient, effective and adaptive industry and shaping the future of smart buildings.
Best Tech Innovation
This award will recognize the most innovative new idea/technology/product/service for the smart, connected, high performance, intelligent building marketplace in the following categories:
Hybrid Immersive Experience
Intelligent Buildings
Wireless Tech
Most Intelligent Building Projects
This award will go to those extraordinary examples of buildings, projects and communities that best demonstrate smart, connected, high performance intelligent building concepts in the following categories:
City/State
College Campus
Corporate Campus
Corporate HQ
Mixed-Use Projects
Multifamily/Residential

Office Building
Office Portfolio
Retail
Senior Living
Specialty
IBcon Julie Devine Digital Impact Award
It takes vision, determination, tenacity and commitment to keep this industry moving in the right direction. This award is designed to acknowledge those individuals who saw things ahead of their associates, had the courage to leave the mainstream and the tenacity to keep standing up after many failed attempts.
NEW!

IBCON RISING STAR AWARD

This year, we are adding the Realcomm Rising Star Award. This award will focus on professionals who are beginning to make a significant impact to our industry through the use of technology.