ADVISORY NEWSLETTERS

Vol. 18 No. 21 – 5/23/2018
RealcommEDGE Magazine: Conference Edition
Nancy Stone, Managing Partner, Events Director, Realcomm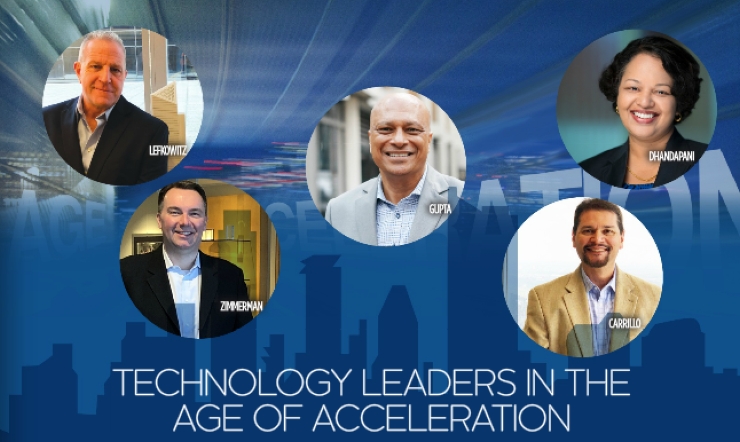 In the current issue of the RealcommEDGE Magazine, we asked our Realcomm and IBcon Advisory Council Co-Chairs Steve Lefkowitz, Time Warner, Scott Zimmerman, CenterPoint Properties, Arv Gupta, Cadillac Fairview, Jesse Carrillo, Hines and Chandra Dhandapani, CBRE to share their views about how their technology roles are evolving in this "Age of Acceleration" and how they are managing that change in their organizations.
VIEW the Digital Edition

The RealcommEDGE magazine is the only publication focused exclusively on technology, automation and innovation for the Commercial and Corporate Real Estate and Facilities industry. It provides readers with astute analysis and world-class case studies demonstrating the best use of technology for the industry.


COVER STORY:

Technology Leaders in the Age of Acceleration
Featuring Steve Lefkowitz, Time Warner; Scott Zimmerman, CenterPoint Properties; Arv Gupta, Cadillac Fairview; Jesse Carrillo, Hines; Chandra Dhandapani, CBRE

INSIDE THIS ISSUE:

From the Publisher: The Age of Acceleration: Navigating Global CRE Technology and Innovation
Why the 'As A Service' Model Will Be a Game Changer for Intelligent Buildings

The Facility Manager's Changing Role: Guardian of the Building Experience

Empowering Business Through Connected Data

Smart Digital Workplaces: Moving Beyond Smart Buildings

Empowered: Choices and Challenges in Energy Efficiency

2018 Brings the Next Phase of Big Data for Smart Buildings

Transwestern's Enterprise Journey to Digital Transformation: An Interview with Kurt Emshousen, CAO

Smart Buildings Need Smarter Cybersecurity

FASB ASC-842 – You Have 275 Days: Are You Ready?

Three Questions to Ask When Vetting Intelligent Building Technologies

Moving from Analytics to Artificial Intelligence: Is Commercial Real Estate Ready?

Advances in Fault Detection and Diagnostics Technology

It All Starts with Exploration: Rethinking the Approach to Data Analytics in Facilities

Smart Furniture Now a Part of the Connected Building Discussion

Forget Blockchain and Bitcoin – AI is Where You Should be Focusing in Commercial Real Estate

2018 Solutions Marketplace Directory
VIEW the Digital Edition
Subscribe to RealcommEDGE
This Week's Sponsor
Yardi® develops and supports industry-leading investment and property management software for all types and sizes of real estate companies. Established in 1984, Yardi is based in Santa Barbara, Calif., and serves clients worldwide. For more information on how Yardi is Energized for Tomorrow, visit yardi.com.
UPCOMING REALCOMM WEBINARS
Understanding the Next Generation of Smart Buildings – A CASE STUDY Showcase - 1/17/2019
There are many different opinions on the definition of a smart, intelligent, connected, high-performance building. Energy conservation, operational efficiency and occupant experience are the three fundamental pillars of a smart building. While some take the path of first exploring the technology options, others find greater value in studying completed projects that have incorporated the technology. Case studies provide the opportunity to review the technology decisions as well as the organizational issues and planning processes involved in creating a next generation project. This webinar will present the most successful and notable smart building projects in the world. Project leaders will share their vision, successes and challenges!