Feature
Kingsett Capital | Fairmont Royal York Hotel: Electrification to Decarbonize a Historic Landmark
September 21, 2023 | Realcomm Staff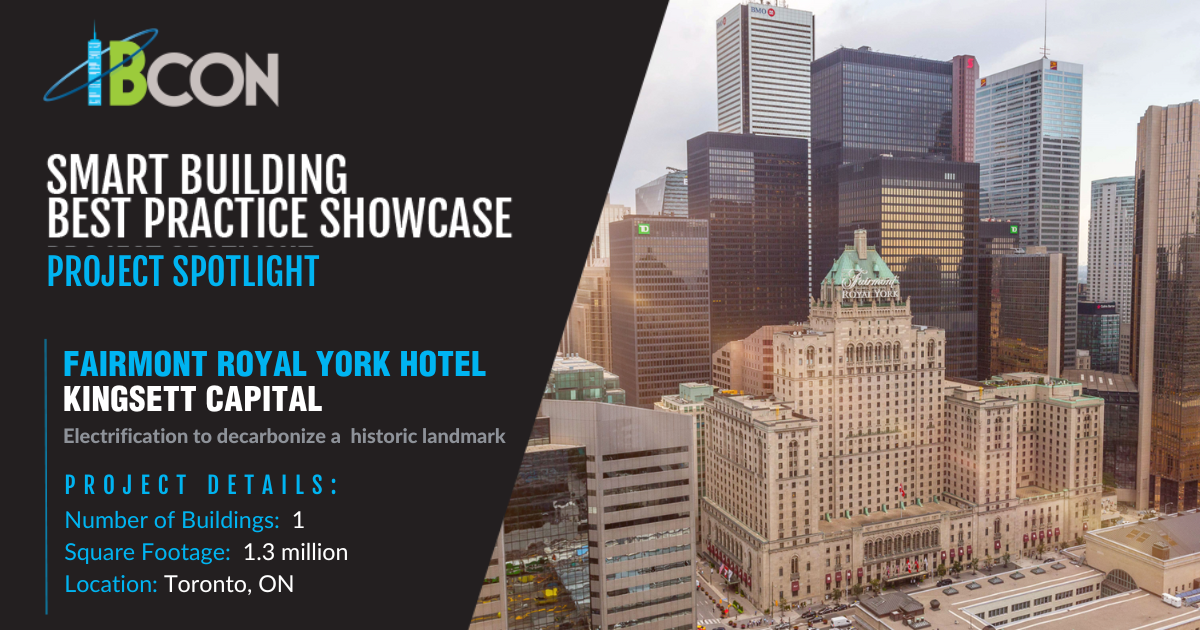 The IBcon Smart Building Best Practice Showcase is an annual event held at the Realcomm | IBcon conference where real estate leaders present their most innovative, technology driven commercial and corporate real estate projects. These projects demonstrate leading-edge technologies and vision for intelligent and adaptive design that is transforming the next generation of IT-enabled real estate. The Weekly News Briefing will feature a unique Showcase project each week.
The iconic Fairmont Royal York hotel is located in the heart of Toronto, across from Union Station. The hotel is comprised of 1,331 rooms and provides creative conference facilities, including multiple meeting and event spaces to accommodate group, corporate and social events. Like many historic buildings, the Royal York undergoes periodic upgrades in guest facing facilities such as rooms, meeting areas, and amenities.
Some of the more recent upgrades include the newly renovated Clockwork Bar, Reign Restaurant and the Library Bar.
Along with these external upgrades, older building systems also require upgrades to meet newer energy efficiency standards and to create more value in operations and property appreciation. Building owner Kingsett Capital began a year-long energy retrofit in 2022 that will eliminate an estimated 7700 metric tons of CO2 emissions annually, and save over $2 Million in operating costs per year. The project is taking place in a fully operational hotel.
This Week's Sponsor
Embracing open software/hardware platforms, Lynxspring develops, manufactures, and distributes edge-to-enterprise solutions creating smarter, sustainable buildings, better energy management systems, equipment control and specialty machine-to-machine and IoT applications. Lynxspring technologies simplify connectivity, integration, interoperability, data access and normalization and analytics from the edge to the enterprise. The company's solutions are commercially deployed in millions of square feet in the United States and internationally. www.lynxspring.com
Read Next