News
CES 2023 Highlights: Tech Trends That Will Impact CRE
January 12, 2023 | Realcomm Staff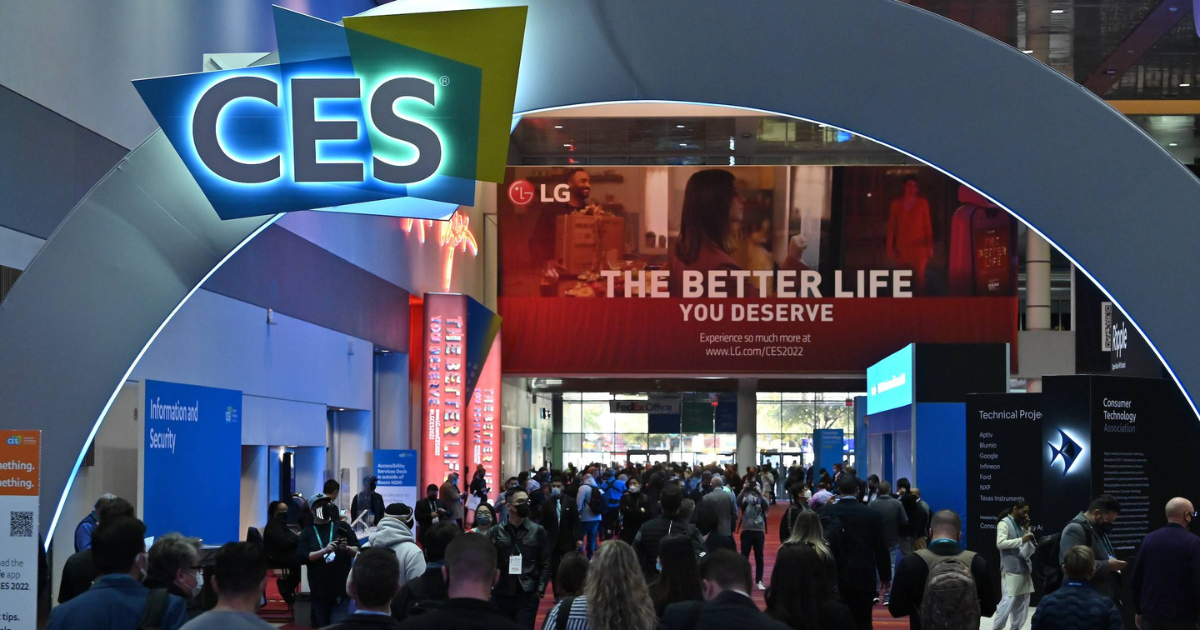 At last week's CES 2023, there were plenty of tech innovations on display from solutions aiming to solve real world problems (sustainability was a main buzzword at the conference) to making your life fun.
Now that CES 2023 has come and gone, Realcomm sifted through a number of articles to discern trends and tech that will impact the commercial and corporate real estate industry this year and beyond.

The Future of Work on Display at CES 2023

It may take a little digging under the surface, but this year's CES show has a lot to say about the great shift toward hybrid and remote work, in everything from better video conference tools to attempts at building a metaverse-infused, mixed-reality workspace. Read more.

CES 2023's Must-See Highlights: A Flying Car, a New Gaming Handheld and the Tesla of the Sea

CES 2023 brought a peek at a future that's bright, flying and may even fold too. A stunning shape-shifting screen from Samsung and a flying car that may soon actually hit the streets (skies?) were among favorite highlights of the Las Vegas tech show. Read more.
When it wasn't being overshadowed by covid resurgences, CES, for the past few years, has partially functioned as a big 5G pep rally. But as cars, smart home standards, and so many screens took center stage at this year's show, 5G took a back seat. Read more.

CES 2023: Robust Cybersecurity Necessary as Connectivity Grows

As connectivity becomes central to ever more facets of life, cybersecurity standards must evolve to protect consumers devices "by design" and "by default," said Billy Bob Brown, Jr., executive assistant director for emergency communications at Homeland Security's Cybersecurity and Infrastructure Security Agency. Read more.
From Central Hall to The Venetian, Matter, was the buzzword throughout CES 2023 this year. The new smart home standard was featured in several keynotes and displayed prominently in smart home device makers' booths as well as in Google, Amazon, and Samsung's big, showy displays. Read more.

CES 2023 highlights enterprise push toward sustainability

Innovation and sustainability took center stage at CES 2023 as business leaders detailed technology advancements built to lessen the environmental impact. Read more.

A big CES 2023 trend: All battery power, everywhere, all the time

One product category stood out across the board: There's a lot of focus on portable (and less portable) power storage. These are more than your average charge-your-phone-once-or-twice battery packs, ranging from simple small power packs to sophisticated power stations that can connect to portable or rooftop solar. Read more.
Many of these tech trends and topics, such as ESG, sustainability, future of work and more, will be featured at Realcomm | IBcon 2023 on June 14-15 at Caesars Palace. Join us as we celebrate 25 years at the intersection of real estate, technology, automation and innovation. Register early and save.
This Week's Sponsor
Intelligent Buildings® offers portfolio-wide cybersecurity site assessments and ongoing managed services including secure remote access, system backup and policy audits. We are the only company solely focused on real estate technology advisory, assessment, and managed services. Since 2004, we are the most trusted and experienced name in Smart Buildings. Find out more at www.intelligentbuildings.com.
Read Next