News
Google Bay View Campus: Built for the Future of Work
November 10, 2022 | Realcomm Staff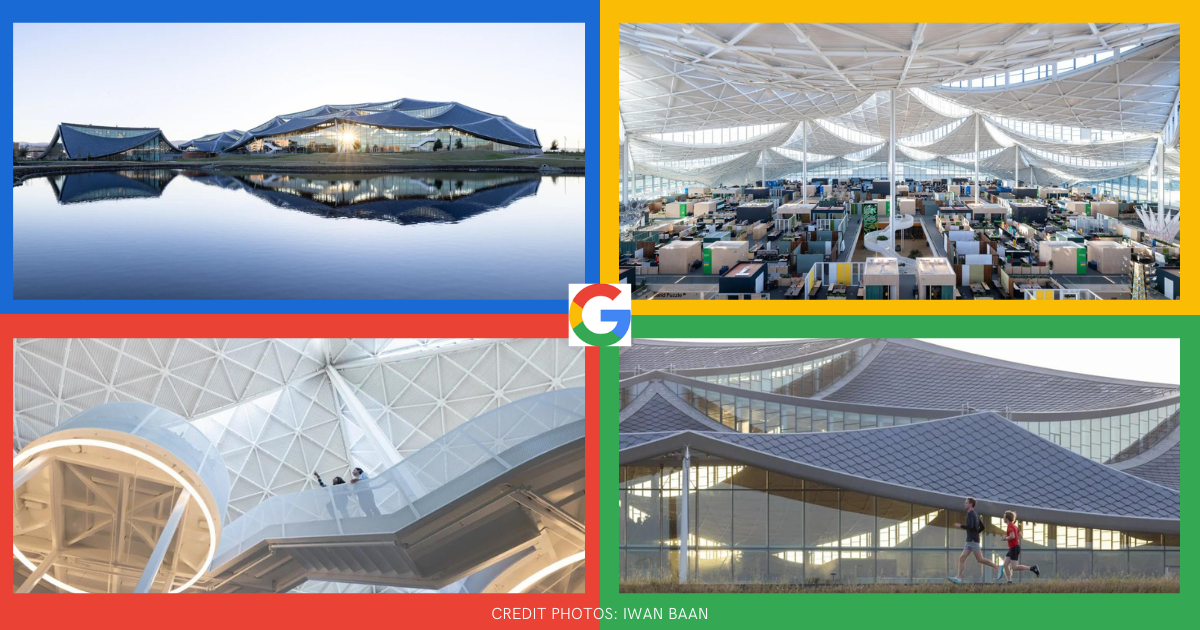 Google's legendary innovation in multiple sectors is well documented; its global corporate campuses are renowned for taking existing buildings and turning them into experiential workspaces, notable for their sustainability and efficiency. For the first time, this future-driven company has developed its own major office: the Bay View campus in Silicon Valley, California.
The Bay View campus was a long-term project entailing years of collaborative planning at every level. With a commitment to regenerative design, a hugely diverse group of stakeholders and designers (whose main requirement at first was to "think differently") went deep on research and development. The result is an architecturally stunning, environmentally minded, people-centric workplace.
Rethinking the very idea of office, this living lab site can literally change with the times, prioritizing the experience of the people in the building over the exterior form. Under the unique "dragonscale" solar canopy roof, 1.1 million square feet offers various types of collaborative space as well as designated areas for focused individual work. Every desk enjoys natural daylight and outside views. The second floor has variation in floorplates for the highest flexibility under the dome. Space will continue to be curated over time to provide even more adaptability for employees.
The company's sustainability goals were a large part of the vision; those goals include a commitment to be carbon free by 2030. Nearby wind farms will power the site on carbon-free energy 90% of the time. Bay View features an integrated geothermal pile system (the largest in North America) that is estimated to reduce carbon emissions by roughly 50% and will help to both heat and cool the campus. Bay View is 100% electric and the site generates more water than it uses. The campus is also on track to be the largest project certified by the International Living Future Institute (ILFI) under any of their programs, at any certification level. The building ventilation system uses 100% outside air (a typical system uses around 20-30% of outside air). Materials research vetted over 3000 products that were tested to make sure they were non-toxic.
The campus has two office buildings, an event center, and temporary hotel units for employees. There are multiple courtyards, walking and biking trails (with public access) and over 20 acres of open space. Natural areas provide resources for wildlife and are designed to reestablish native landscapes. Above-ground ponds gather rainwater; combined with a building wastewater treatment system, they serve as a water source for cooling towers, flushing toilets, and landscape irrigation.
The vision and scope of the Bay View campus project cannot be overstated. Not only the years of assessment and research to find the best technologies, but to ensure the technologies and processes are economical, scalable, and resilient to the vagaries of time. And most of all: to question the very foundation of what the workplace is and how it best serves the people within.
Google Bay View will be one of two real estate tech tours offered at the CoRE Tech conference on November 15-16, 2022 in San Jose. Tour registration is available to real estate and facilities professionals, consultants and service providers who are registered conference attendees. Each tour will have limited capacity and will be available on a first-come, first-served basis. Tours are available to registered conference attendees only. Register now!
This Week's Sponsor
Microshare leverages the power of Internet of Things (IoT) data to solve real word problems. Our Sensing-as-a-service model takes the complexity out of IoT, enabling the creation of Digital Twins of our global clients' physical assets. This unlocks previously hidden data insights that secure people and places, produce cost savings and sustainability metrics. Visit Microshare.io to learn more.
Read Next