ADVISORY NEWSLETTERS

Vol. 18 No. 45 – 11/8/2018
The Unisphere: Largest Commercial Net Zero Building in the United States
Thomas Kaufman, Associate Director, Corporate Real Estate, United Therapeutics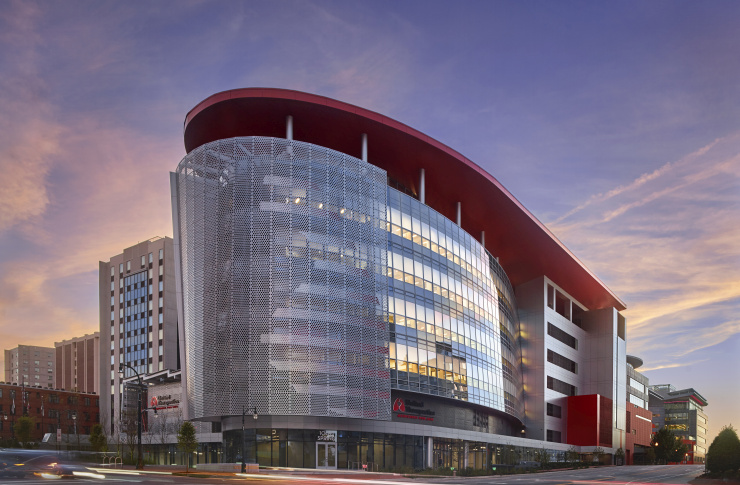 United Therapeutics (UT) is a publicly traded biotech company with a mission to develop treatments for rare diseases. UT has an overarching commitment to environmental sustainability, which is reflected in the design and operations of our facilities. It strives to create practical, beautiful and inspiring spaces for employees to do their incredibly important work. UT views its buildings as physical manifestations of its values, and there is no better such example than the Unisphere. It is designed to be site net zero energy, meaning that the building generates enough renewable energy onsite to offset 100% of the energy that it consumes over the course of the year. At 135,000 square feet, it is the largest commercial net zero building in the United States.
To achieve the net zero goal, the facility includes various sustainable features including 3,000 photovoltaic panels, geo-exchange wells, a high-performance curtainwall with electrochromic glazing, an earth-coupled heating/cooling system, an automated natural ventilation system, daylight harvesting, and a thermal pool. Other features include green roof terraces that help reduce rainwater run-off, electric car charging stations, and eco-friendly furniture.

The location of the Unisphere proved to be very challenging for the net zero mission. Unlike many other net zero facilities, the Unisphere is located within an urban environment, with very limited space to place solar arrays. Additionally, the site is surrounded by high rise buildings, creating significant shading and further limiting solar production. The mid-Atlantic climate, with intensely humid summers and relatively cold winters created additional challenges.

In order to surmount these challenges, the net zero goal was made paramount during the design and construction phases. Every design decision was made within the context of how it would impact the energy performance of the building. This was only possible via a highly integrated design team, often led by the mechanical engineer.

During early planning stages, it became clear that the net zero mission would live and die with the Building Automation System (BAS). The BAS integrates seven different systems (power monitoring, lighting control, data analytics, electrochromic glass control, geothermal optimization, an interactive sustainability visualization and the fire alarm system) and controls and monitors over 11,000 devices. During temperate weather, the BAS automatically opens exterior windows to naturally ventilate the building. During natural ventilation mode, the Unisphere's HVAC system consumes about as much energy as an average suburban home.

To provide visibility into the building systems integration process, UT mandated a systems integration mockup be completed within 150 days of awarding the construction contract. The mockup required the BAS subcontractor to prove that every component of the building that would be connected to the BAS could be virtually controlled. This forced the general contractor to award the contract to the BAS subcontractor very early in the process. The idea was to bring everyone to the process from the very beginning. Key team members met regularly to plan out how the controls implementation process would work—including the owner's IT and Facilities departments, the general contractor, the building control subcontractor, the mechanical, electrical, and plumbing subcontractors, and the commissioning agent.


It was very important to UT that the building be able to communicate its net zero mission to occupants and visitors. The central atrium contains an installation called the Energy Wheel that expresses the energy status of the building in an inspiring, educational and beautiful manner. It is a circular array of mirrored light fixtures, 24 feet in diameter. Using real time data from the BAS, the energy wheel creates unique animations based on whether or not the building is producing more energy than it is consuming.

Real time data from the BAS system is also used to create an interactive energy dashboard: an LED touch-screen panel that is fed real-time data from the building automation system and shares real-time energy production next to real-time consumption.
Swiping the screen allows for deeper access to the different systems of the building, and deeper into the components of each system. Occupants can track historical performance here or change different variables to see how building performance changes in different scenarios—hotter vs. colder months, or cloud coverage vs. a sunny day. These interactive displays help the Unisphere communicate its mission to its occupants.

Among the many cutting-edge deployments of technology, the Unisphere also relies on simple design principles, some as old as the Roman empire. The seven-story central atrium, which provides a secondary source of natural light to all offices, is not heated or cooled by a mechanical system. Instead, an underground concrete maze called the earth labyrinth (a quarter of a mile in length)
uses the thermal qualities of concrete and the relatively constant temperature underground to temper the atrium space. The same concept is used to dramatically improve the efficiency of the HVAC system, via a closed loop geo-exchange system. This system consists of 52 geothermal wells, each one 500 feet deep.


The Unisphere grew out of a vision to embrace responsibility measures and embodies a new idea of what a large commercial office building can be. This integrated approach to facility design embraces advances in technology, respect for nature, and a health-positive workplace.

On Nov. 15 from 7:30am to 8:30am, CoRE Tech 2018 kicks off Day Two with the Smart Building Best Practice Showcase and will feature Unisphere and other preeminent corporate real estate projects . These buildings and campuses are designed and built by industry-leading companies who are strategizing for the workplace of the future. Don't miss the unique opportunity to network, collaborate and meet face-to-face with the representatives from the Smart Building Best Practice Showcase at CoRE Tech 2018!


This Week's Sponsor
Yardi® develops and supports industry-leading investment and property management software for all types and sizes of real estate companies. Established in 1984, Yardi is based in Santa Barbara, Calif., and serves clients worldwide. For more information on how Yardi is Energized for Tomorrow, visit www.yardi.com.
Realcomm News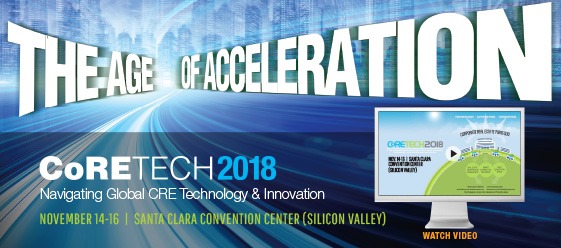 400 Reasons to Attend CoRE Tech 2018!
If you are involved with Corporate Real Estate and Facilities, then don't miss #CoRETech2018 in Silicon Valley on Nov. 14-16.
20 Years of Education @ the Intersection of Commercial and Corporate Real Estate, Facilities, Technology, Automation and Innovation
22 Sessions Featuring Global Domain Experts and True Thought Leaders
40 Solution Providers with Industry Specific, Leading-Edge Products and Services
10 Corporate Smart Building Best Practice Case Studies Showcase
8 Silicon Valley Real Estate Tech Innovation Tours
300+ People Who Are Transforming Corporate Real Estate & Facilities!!
FOR MORE INFO AND TO REGISTER, PLEASE VISIT
www.realcomm.com/coretech-2018
UPCOMING REALCOMM WEBINARS
REAL ESTATE INFORMATION ANALYTICS – Harnessing the Power of the Data - 2/7/2019
It started with spreadsheets and pivot tables, moved to databases, then to data warehouses, onto analytics and business intelligence. Now, analytics often refers to machine learning and artificial intelligence. In the end it is simply about collecting and maintaining accurate comprehensive data and applying some form of sophisticated analysis to gain insight and make better decisions. Combining internal and external data can provide organizations with a better understanding of individual assets, portfolios and markets. This webinar will gather the industries' most experienced professionals who are leading the way in using data analytics for real estate. Product options, data strategies, personnel requirements and more will be discussed.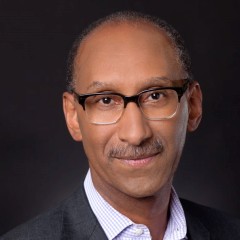 Wayne Pryor
2Five1 Consulting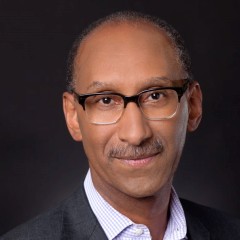 Wayne Pryor
Founder
2Five1 Consulting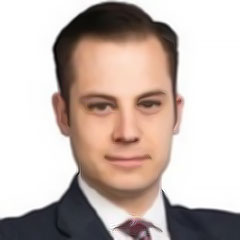 Andrew Weakland
W.P. Carey, Inc..
Andrew Weakland
VP - Director of Systems Development
Andrew Weakland is the Director of Systems Development for W. P. Carey, a net-lease REIT focused on providing long-term sale-leaseback and build-to-su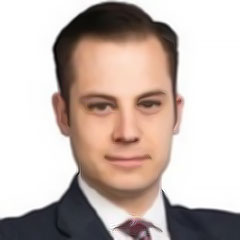 Andrew Weakland
VP - Director of Systems Development
W.P. Carey, Inc..
Andrew Weakland is the Director of Systems Development for W. P. Carey, a net-lease REIT focused on providing long-term sale-leaseback and build-to-suit solutions for companies in the U.S. and Northern and Western Europe. W. P. Carey continues to focus on active portfolio management and demands technology solutions that deliver results. Andrew specializes in bringing emerging technologies into the real estate space to drive competitive advantage while maintaining the cohesiveness of the overall enterprise technology footprint.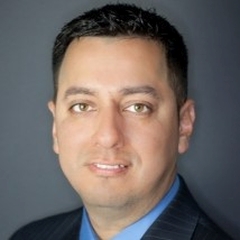 Luis Ramos
Woolbright Development
Luis Ramos
Director, IT
As the Director of Information Technology at Woolbright Development, Luis Ramos is responsible for the corporate technology strategy, which includes t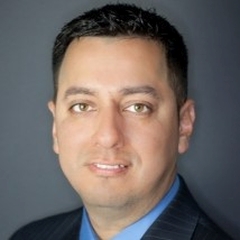 Luis Ramos
Director, IT
Woolbright Development
As the Director of Information Technology at Woolbright Development, Luis Ramos is responsible for the corporate technology strategy, which includes the IT infrastructure and enterprise application platforms. Additionally, he is also responsible for implementing technology solutions toward the company's existing business processes, and helping create new efficiencies throughout the company's business model. Since his arrival in 2004, his team has been responsible for the constant development of various industry-focused proprietary software applications and tools. These award-winning technologies have fundamentally changed the way commercial real estate has been done at Woolbright.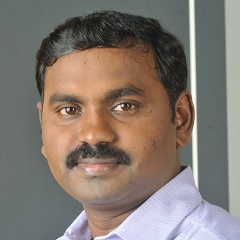 Prabhu Ramachandran
Facilio
Prabhu Ramachandran
CEO and Founder
Prabhu's career spans over 18 years of product, business, and customer experience focused on enterprise-scale software for IoT-based connected service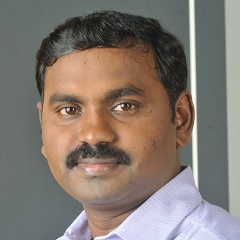 Prabhu Ramachandran
CEO and Founder
Facilio
Prabhu's career spans over 18 years of product, business, and customer experience focused on enterprise-scale software for IoT-based connected services, sustainable building solutions, and telecom network management. Prior to becoming an entrepreneur, he was the Director of the IoT division of Zoho Corporation. At Zoho, he was responsible for and directly oversaw strategy, innovation, product, marketing and revenue operations of end-to-end telecom and IoT building solutions.