Partner Content
Enhance Workplace Utilization and Unleash People Counting Value for Optimal Operation Benefit
November 24, 2022 | Leon Jiang, VP, Milesight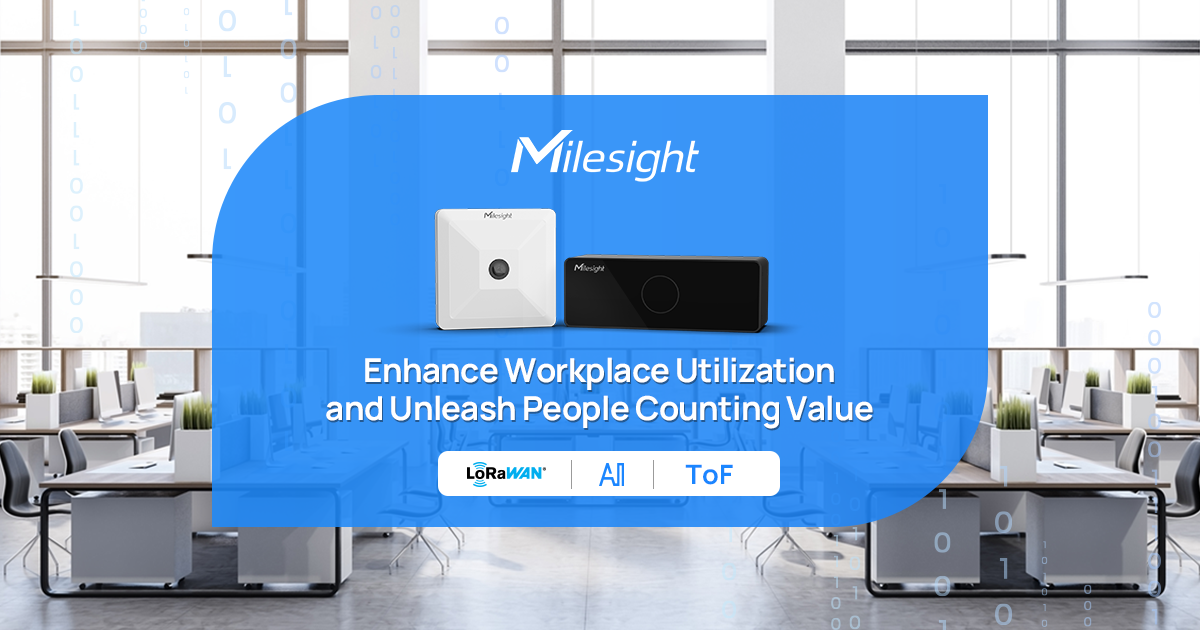 Efficiency, precision and simplicity are the trends of applications of all walks of life. Space occupancy and people counting as two high-profiled market segments become increasingly significant with the view of improving the value of the fields like commercial, smart building, retail store, transportation and others. By taking advantage of the IoT, the scattered pieces of information can be converted into a clear picture. Integrated data is valuable for space utilization and decision-making, contributing to maximum operation benefit.
Multifarious devices with different technologies are applied to realize people counting and space occupancy detection. How to identify those devices and technologies does matter. And why do AI and ToF technology leveraged by Milesight Occupancy & People Counting Series stand out for grasping space occupancy and getting people counting accurately?
Accurate Space Occupancy Detection Is Important for Workplace Insights
In general, space occupancy reveals the occupancy status as vacant or occupied, which is important for capacity management. So far, technologies such as radar, ultrasound wave, PIR and thermal have been used. But the demerits are obvious. They do not generate enough high accuracy and can be easily influenced. Their cost performance is also inferior to Milesight Workplace Occupancy Sensor VS121 of Occupancy & People Counting Series with AI technology. It reaches up to 98% recognition rate exceeding most competitors.
Where It Applies
By getting extensive data, it forms a valuable information network of the workplace, which greatly promotes data-oriented management. All the data related can be converted into information instantly for adjustment, energy saving and strategic decision-making. Explore more>>
Office Utilization: Understand office occupancy based on extensive data collected to optimize the layout, making the office more occupant-friendly and improving resource allocation.
Meeting Room Occupancy: Allows for effective workplace utilization through usage management by detecting the presence in a meeting room
Workstation Detection: Make clear occupancy conditions of workstations without extra labor efforts.
Line Crossing People Counting: Get a full picture of the density for specific areas by counting the number of people in and out of a room or even the whole workplace.
Getting People Flow in Real-Time to Improve Management
Utilizing electronic devices, people counting is a way to measure the number of people that pass through a certain passage or entrance or that stay in a given area. Same to space occupancy detection, the people counting applied technologies are also multifarious such as Wi-Fi, Bluetooth, thermal, radar, infrared break beam and binocular vision. Compared with those technologies and devices, Milesight 3D ToF People Counting Sensor with ToF technology forms 3D depth information realizing accurate and anonymous people counting.
Where It Applies
By bi-directional line crossing people counting, with 99.5% ultra-high accuracy and 100% anonymous detection by design, the traffic of any space is precisely counted. And the advanced u-turn guarantees accurate people counting to avoid unnecessary and redundant statistics. As basic data, the statistics can be extended to unleash diversified values. What's more, the sensor can be managed and maintained remotely on Milesight DeviceHub to bring superb user experience. Explore more >>
Business Running, Customer Flow Analytics: Centering on real-time and accumulated statistics, the operators can easily discover peak hours for the greatest sales opportunities and get conversion rates through the customer volume.
Workplace, People Flow Analytics: Getting real-time and historical people flow statistics, the overall space capacity and usage patterns will be clear, and it can be specific to some typical areas to understanding workplace utilization.
HVAC System Management: Based on highly accurate people counting, the sensor offers an efficient way to precisely control the heating, ventilation and air conditioning system.
Transportation, Passenger Flow Analytics: The ToF-based sensor with an active ToF light source fits any traffic circulation environment even in low light conditions. It counts passengers getting on or off in real-time to obtain statistics that will be valuable for optimizing operations.
Find the Right Products for People Counting and Space Detection
Matched and Appropriate Technologies
Some difficult technologies like radar which is not widely used will lead to high prices and its specialization level is way too much for actual applications. But some other technologies like Wi-Fi, Bluetooth, PIR and thermal lack high enough accuracy. And technologies like camera imaging and Wi-Fi will inevitably cause privacy concerns. Occupancy & People Counting Series with AI and ToF technology eliminates all the concerns above to provide accurate, anonymous and cost-effective applications.

Accurate Recognition Rate
The precise data is the solid foundation for space occupancy detection and people counting. All the further processes are meaningless without the guarantee of accurate data. With up to 98% and 99.5% ultra-high accuracy, Milesight AI Workplace Occupancy Sensor VS121 and 3D ToF People Counting Sensor VS132 are perfect for space occupancy and people counting.

Anonymous Detection
Privacy concern is and will always be one of the top focuses of what people value. Every possible element that may cause privacy disclosure should be taken into consideration. By applying technologies of AI & ToF and transmitting through LoRaWAN®, the Milesight Occupancy & People Counting Sensors promise 100% anonymous detection.
Occupancy & People Counting Series
AI Workplace Occupancy Sensor VS121
LoRaWAN® Wireless Deployment
Up to 98% Accuracy
100% Anonymous Detection (Compliant with GDPR)
78m2 Large Detection Area
16 Custom Detection Regions
Bi-Directional Line Crossing People Counting
Milesight D2D Communication
Easy Configuration
3D ToF People Counting Sensor VS132
3D ToF Technology
100% Anonymous Detection (Compliant with GDPR)
99.5% Ultra-high Accuracy
Smart U-Turn Detection
ToF Light Source for Complete Darkness
Bi-Directional People Counting
A Million Local Storage Capacity
User Friendly Management on Device Hub
Flexible 3 Installation Modes
This Week's Sponsor
Milesight is a fast-growing and innovation-driven technology company with a focus on 5G, AI, IoT and LoRaWAN. With advanced IoT insights, the company is committed to driving next-level technology innovation and business efficiencies in an actionable and locally adapted way. For more information, please visit www.milesight-iot.com.
Read Next