IBCON "DIGIE" AWARDS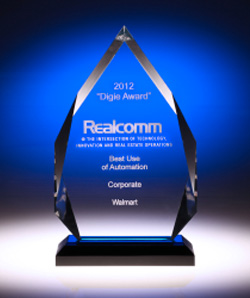 Realcomm has been handing out the "Digie" Award (short for Commercial Real Estate Digital Innovation Awards) since our first event in 1999. The main purpose of this award is to recognize those companies, real estate projects, technologies and people that have gone above and beyond to positively impact our industry through the use of technology, automation and innovation.
Commercial, Corporate, Government and Institutional Real Estate involve an inordinate amount of information, systems and business processes to operate the business. This data intensive, manual, mostly disconnected environment provides the perfect opportunity to radically transform how we do our business. For this reason we continue to recognize those who are leading the charge for a more efficient, effective and profitable industry.
Best Use of Automation
From new work order management systems that allow tenants to get the leak fixed faster, to integrated transaction systems that allow for more efficient and accurate transactions, automation is central to the future of our industry. Whether it's a brokerage company or an owner/operator, those firms who understand the benefits of streamlining business processes will surely be the leaders of tomorrow.
Commercial Services
Brokerage Services
Commercial Real Estate
Retail

Corporate Real Estate
Facility Management
Investment Management
Architecture
Real Estate Technology Innovation
Each and every year since 1999 we witness a host of new solutions developed for our industry. Ranging from accounting and financial applications to lease management and electronic fund transfer. Given the number of traditional manual processes that are found within the buildings space, the opportunity for automation is endless. Ultimately we are looking to reduce the number of steps it takes to accomplish a task, integrate information where appropriate, create one version of the truth and allow real estate professionals to make more accurate and timely decisions. This award will be given to those companies that strive to re-engineer our very manual and disparate industry through the creation of innovative automation solutions. Over time out industry will be transformed to a more efficient and seamless environment and these companies and products will continue to play a major role.
Digital Impact Awards
Changing the Commercial, Corporate, Government and Institutional Real Estate industry into a digital model is not an easy task. For years, the innovators have struggled to get acceptance by an industry that has been doing things the same way for a very long time. However, given the size and scope of the impact our business has on the US and International economy, combined with the fact that our systems are terribly inefficient, these visionaries have not given up. This award is designed to acknowledge those individuals who saw things ahead of their associates, had the courage to leave the mainstream and the tenacity to keep standing up after many failed attempts. History proves that we cannot accomplish major change without these innovators and for this they need to be recognized.