About the Event
CRE Tech 5.0 – Reaching New Heights in
Corporate Real Estate Innovation
The corporate real estate industry has many moving parts. Change is the only constant as companies around the world continually add and subtract from their organizations and portfolios. A merger today and a disposition tomorrow requires a complex network of individuals and processes to keep up with the changing real estate needs of a company.
The people and processes involved in keeping a real estate portfolio moving smoothly require a significant amount of technology, automation and innovation. It is no longer possible to keep asset, lease, utilization, energy, operations and other data in spreadsheets or other disconnected information silos.
Over the course of the last 30 years, there have been five major phases of automation that have impacted the corporate real estate industry. Phase 1 started in the '80s with applications such as Property Management, Accounting, Lease Admin, Building Automation, IWMS and Asset Management; Phase 2 was based on the technologies of dot.com and the internet; Phase 3 was the aftermath of dot.com and those companies that survived and thrived; Phase 4 began in 2009 after the great recession and included technology platforms such as Social, Mobile, Analytics, Cloud, IoT and Cyber; and Phase 5, which became part of mainstream conversations in 2016 with technologies such as AI, Machine Learning, Blockchain, Augmented Reality, Robotic Automation and Autonomous Vehicles.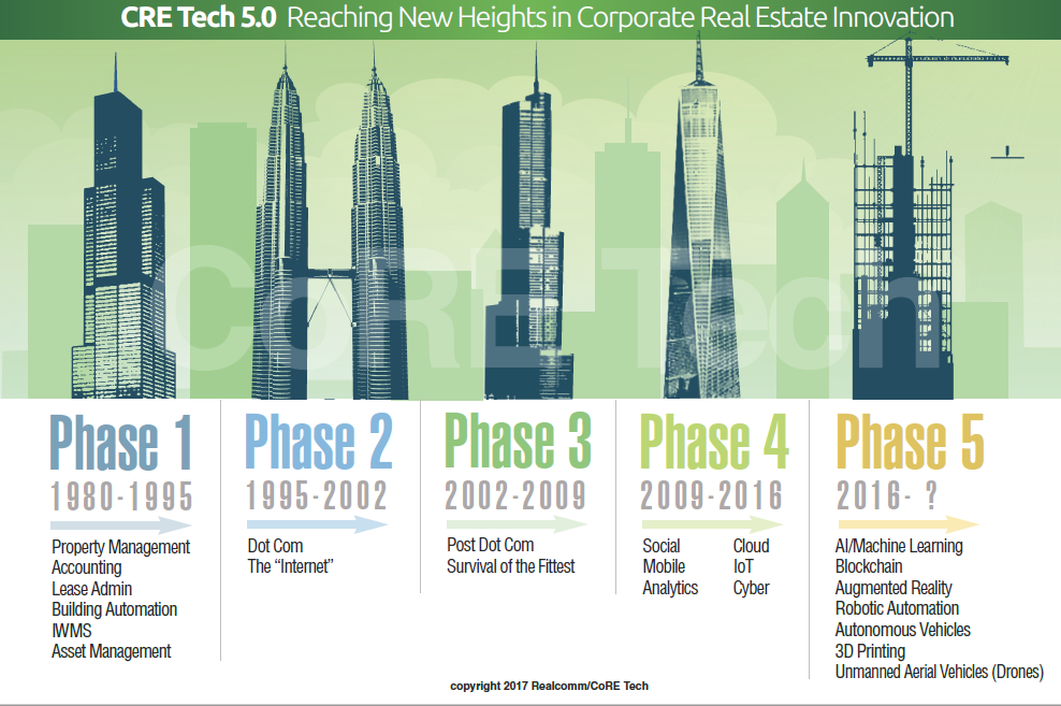 The aggressive adoption of these new CRE Tech 5.0 tools will have major effect on the information systems we use to manage these assets, the way we operate portfolios, smart buildings and the ways we create and use space. With such profound benefits coming from these new technologies, it is no longer a matter of if we should implement them, but when; there is too much at stake with respect to productivity, occupant experience, resource conservation and financial optimization to not do so.
Join us for CoRE Tech 2017 as we explore Phase 5 of this technology journey and learn how CRE Tech 5.0 will enable our industry to Reach New Heights in Corporate Real Estate Innovation!