About the Event
About the Event
CoRE Tech 2016 is a unique gathering of the most proactive, visionary corporate real estate and facilities executives who will come together to focus on innovative automation and technology strategies to help achieve their organization's real estate goals.
Over the past six years, CoRE Tech's vision and mission has not changed and remains the cornerstone for this growing community of professionals dedicated to transforming the corporate real estate and facilities industry through the use of technology, automation and innovation.
This year's conference will be held November 16-17 in one of the world's most innovative cities – New York.
When you aggressively apply technology to a corporate real estate portfolio consisting of corporate campuses, regional facilities and retail space, you ultimately impact your business in the following areas:
Three Spheres of Impact:
Advanced Real Estate Information Management
Smart Connected Buildings
Next Generation Space
What this means from a business perspective is:
Better Space Utilization
More Efficient Natural Resource Usage
Lower Operating Costs
Achievement of Sustainability Objectives
More Engaging, Flexible, Safe, Enjoyable and Productive Space
+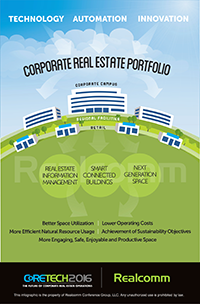 The future of corporate real estate is comprised of a perfect balance of real estate and technology and CoRE Tech remains at the center of this discussion. Whether it is traditional topics such as IWMS, more recent advancements such as mobile, cloud or analytics, or the latest transformational technologies such as artificial intelligence, blockchain, autonomous vehicles, augmented reality or robotic automation, CoRE Tech is the place to embrace the conversation.
If you are truly interested in learning about the global best practices that are reshaping our industry and networking with the industry leaders who are well on their way to transforming how we design, build, lease, operate and use corporate real estate and facilities, we encourage you to join us in New York City this November. With technology evolving at breakneck speed and the impacts to our industry happening faster and faster, there is no better conference than CoRE Tech to help you keep pace with this change.
We hope you will be a part of this leading-edge and transformative community!