ADVISORY NEWSLETTERS

Vol. 19 No. 17 – 4/25/2019
Kenneth Finnegan of Hudson Yards Talks Tech & the Country's Largest Real Estate Development
Realcomm Staff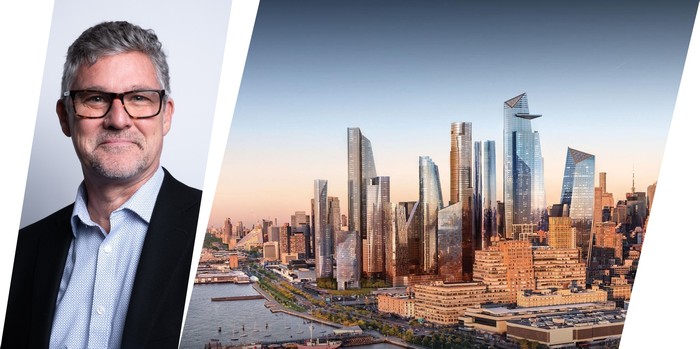 As CIO and Managing Director of Technology of Hudson Yards, Kenneth Finnegan manages the development of technology processes and teams to support the largest private real estate development in U.S. history, and in New York City, since Rockefeller Center. The site will include more than 18 million square feet of commercial and residential space.
Tell us about your role within your organization.
I work to develop and operate technology solutions to improve the daily experiences of our commercial, retail and residential tenants. I work closely with our leadership team to ensure that we are leveraging technology to deliver the best possible experiences to our customers on a daily basis. Our team is responsible for the software platforms, applications, and building systems across all of Hudson Yards.

What were the major technology projects you started or completed last year?
One is the use of biometric entry into commercial office spaces. This tenant entry solution allows secure entry into building turnstiles. One of the advantages is that it's touchless; you just wave your hand—it's a contact-less solution that stores the biometric information as a mathematical hash. We're extremely focused on ensuring our solutions are respecting people's privacy concerns. We have also created a mobile visitor entry solution that allows a QR code to be sent to a visitor. It can be used on mobile devices for turnstile entry without the need for a mobile app.

The deployment of drone detection technologies at Hudson Yards is another; we want to know when an unauthorized drone enters our airspace. We have concerns both from a physical safety perspective and the cybersecurity perspective around drone intrusions and we take these incidents very seriously.

Additionally, we deployed a middleware platform which will eventually connect all principal systems at Hudson Yards and other Related assets. So many of our systems require interconnectivity; it didn't make sense to build point-to-point integrations between all the systems because then you end up with this massive spider web of integrations. The important part is the architecture around the middleware platform. It provides a universal messaging Enterprise Service Bus (ESB) so the applications can publish relevant data across the bus; then other applications that are listening for relevant data can consume that data as needed. If we decide to change, for example, a visitor management system, all we have to do is decouple the old system and recouple the new application to the bus, removing the need to rebuild the multiple integrations. We can connect these disparate systems that previously weren't necessarily designed to communicate with each other to do just that.

We have a large variety of different structures: a pure residential building, a large retail facility, a true mixed-use (hotel, retail, residential, commercial) and pure commercial buildings. Each of these buildings was designed by different architects, with different specifications for technology systems. The technology team came in after a lot of those decisions were made, but this is where the concept of the universal Enterprise Service Bus comes in, allowing fundamentally different systems to communicate.

What are your highest priority technology initiatives in 2019 and what are the drivers behind them?
The continued tuning of our wireless infrastructure, and preparations for the arrival of 5G. 5G is enhancing the opportunity for commercial tenants to reduce their CAPEX and OPEX expenditures on traditional wired networks by reducing the need for physical connections. Once you remove things like wall jacks and switches in the network closet, then you've reduced the need for large scale physical infrastructure devices. It's going to allow us to offer better services to customers. It should also free up square footage, which is gold to real estate developers and operators, because we can dedicate less space to an actual network infrastructure.

The most important goal is the ongoing process of ensuring that all of our digital assets are deployed and operated in the most secure manner possible, because systems today use a large number of IoT devices and connected networks. It is important to us from a performance perspective, and even more so from a physical safety perspective. We don't deploy and then go back and make sure that everything is secure—we plan from a security standpoint in the first place. I think it's important to mention because real estate development companies are always under a very tight deployment schedule. It would be really easy to fall into planning to just get things up and operating, and then going back to secure it later. As a technology deployment organization, we're very mindful about making sure that everything is implemented in a very secure manner in the first place.

Another major initiative is the continued improvement of our digital signage and wayfinding network. We have installed signage inside of our retail facility as well as outdoors around the site that not only provides advertising opportunities for retailers, but also offers touchscreen search capabilities for our visitors. They are able to look up retailer hours, make reservations for restaurants and our other site attractions, and even transfer wayfinding directions to their mobile phones. It's an incredibly helpful feature for a site the scale of Hudson Yards.

What technology, automation or innovation trends do you see having the most impact over the next three years?
The ongoing discussions regarding the balance between privacy and convenience will drive us to seek new solutions that address both. It's imperative that we gain and maintain trust with our customer communities, and we are very mindful of our responsibilities in that context.

There is a trend away from dedicated mobile applications and moving towards more highly responsive web assets. People are getting weary of downloading apps on their phones, unless they serve a very specific need for that individual. The only specific app that we developed to this point is for the residents of the buildings that live there, which are for very specific home-use needs. We very mindfully did not develop a generic app for visitors to Hudson Yards. We have a very responsive and well thought out website that people can use. We want to be fully transparent about what we're doing and why we're doing it. Once somebody puts an app on their phone, as everyone knows, it could request access to your camera, your contacts and so forth—it just raises the level of discomfort regarding privacy. We're removing that potential discomfort. So I think the trend is towards non-app based services from a mobility perspective.

I'm not sure if this is an overall trend, but for us it's supremely important: the analysis and visualization of data that we collect for presentation to the operators. I don't think real estate operators are used to having the data at hand that we are able to now provide because of the information we're collecting on the site in real time. We definitely have a trend at our company to help site operators with information that is very helpful to them from a holistic perspective. Real time information can anticipate a weather event that needs an action, or look historically at data that determines the amount of people visiting on a given date, or even based on an average ambient temperature. Good hard data that enables superior decision-making around that data is hugely important to us so that we as real estate operators can run the site more efficiently.

Topics discussed above such as privacy, cybersecurity, digital transformation, 5G, are just a few that will be presented at Realcomm | IBcon 2019. The event will be held at the Nashville Music City Center on June 13 & 14 (Golf and RE Tech Tours June 11 | Pre-Con Events: June 12). Register today!
This Week's Sponsor
About Lynxspring: Embracing open software and hardware platforms, Lynxspring develops, manufactures and distributes edge-to-enterprise solutions and IoT technology to create smart buildings, better energy management systems, equipment control and specialty machine-to-machine and IoT applications. Lynxspring technologies and solutions simplify connectivity, integration, interoperability, data access and normalization and analytics from the edge to the enterprise. The company's solutions are deployed in billions of square feet of commercial settings in the United States and internationally.
Realcomm News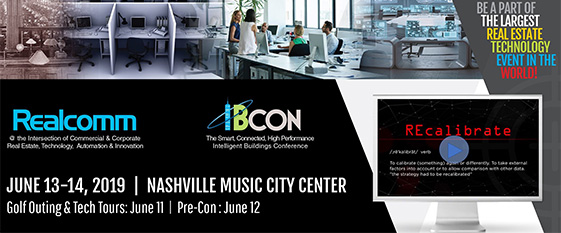 Don't Miss These 9 Exciting Pre-Conference Events | June 11-12
There is no better way to kick-off this year's conference than by attending one of our pre-conference events. These comprehensive and innovative programs are designed for specific stakeholders based on their professional role within the Commercial, Corporate, Government, Institutional Real Estate and Technology industries.
Maximize the value of our pre-conference sessions by bringing your team – IT, FM, PM, Energy, Innovation, Marketing, Sustainability, Operations and Finance – when it comes to technology, automation and innovation, Realcomm and IBcon have something for everyone in your organization!
UPCOMING REALCOMM WEBINARS
Top GLOBAL INNOVATIONS of 2019 Impacting Commercial and Corporate Real Estate - 12/12/2019
2019 will likely be another year of great innovations for the Commercial and Corporate Real Estate industry. With a multitude of new companies and ideas being funded by an insatiable appetite of investors, the traditional workflows and processes of Real Estate are challenged daily. Add to this a desire by the established marketplace to also innovate and the pressure of change increases. This webinar will bring together some of the industry's most prolific prognosticators who will discuss and debate the state of innovation in our industry for 2019. For those firms that are leaning into the change brought about by technology this is a perfect opportunity to hear about the leading solutions, case studies and best practices.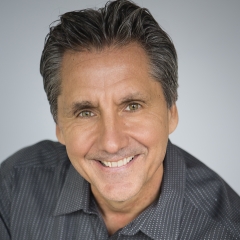 Jim Young
Co-Founder & CEO
Founder of Realcomm Conference Group, an education organization that produces Realcomm, IBcon and CoRE Tech, the world's leading conferences on techno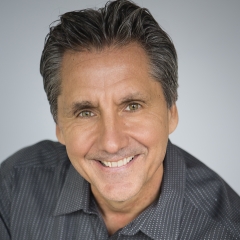 Jim Young
Co-Founder & CEO
Realcomm

Founder of Realcomm Conference Group, an education organization that produces Realcomm, IBcon and CoRE Tech, the world's leading conferences on technology, automated business solutions, intelligent buildings and energy efficiency for the commercial and corporate real estate industry. As CEO, Jim interacts with some of the largest companies globally pertaining to some of the most advanced and progressive next generation real estate projects under development.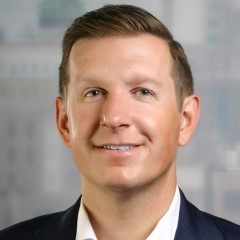 Jeffrey Chulick
Global RE Technology & Innovation Leader
Jeff Chulick is the Technology and Innovation Leader for EY Real Estate Services. He leads a global team of professionals focused on the identificatio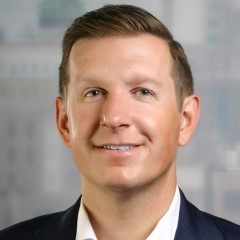 Jeffrey Chulick
Global RE Technology & Innovation Leader
EY

Jeff Chulick is the Technology and Innovation Leader for EY Real Estate Services. He leads a global team of professionals focused on the identification, innovation, design and realization of technology solutions that greatly enhance the workplace experience. His areas of focus include digital strategy, smart workplace, IoT, visual communications, workplace management, physical access and audio/visual technology. Jeff has over 20 years of enabling workplace strategies and delivering innovative solutions for EY and external clients across many different industries.