ADVISORY NEWSLETTERS

Vol. 19 No. 16 – 4/17/2019
Connected Planning and Its Impact on Commercial Real Estate
Nick Moore, Executive Director, Lionpoint Group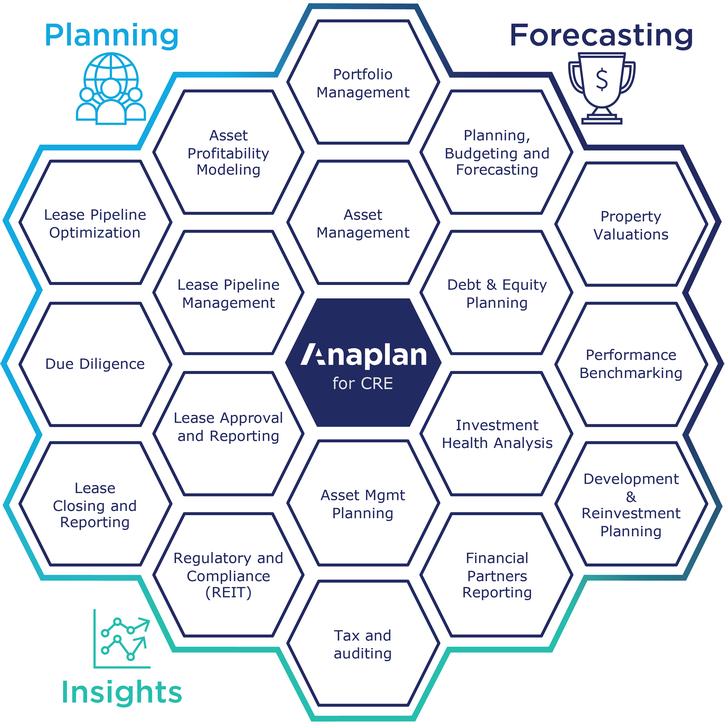 The U.S. Census Bureau recently released its retail and food services report for February. It highlighted, among other trends, that online sales gained a slight edge over brick-and-mortar stores (11.813% versus 11.807%)—one of many major milestones that represent the scope and scale of online shopping growth. The ongoing shift in consumer behavior toward the convenience of online shopping impacts the wider commercial real estate industry. For example, this shift in consumer trends affects how specialty leases are structured in shopping centers, how flexible office space is weighted compared to traditional tenancies, and how investments are made with regard to warehousing demands.
To define, achieve, and sustain success, commercial real estate businesses need to approach how they balance portfolios differently than in the past, starting with a more holistic view of the entire supply and demand model across the omnichannel. This goes from unit level budgeting and forecasting, through sector and geographic portfolio analysis, to corporate enterprise value, EPS and complex allocations. For fund managers, it includes both a 'bottom-up' aggregation of property forecasts to the Fund level, as well as more strategic 'top-down' drive-based scenario modeling and stress testing. To achieve this, many real estate businesses are looking to Connected Planning technology for more valuable insight and better decision-making.

What Connected Planning offers the Commercial and Investment Real Estate Industry
In commercial and investment real estate, the trends of the past have already impacted business in the future. Institutional and personal investors are demanding more granular detail around their investments, and faster reporting turnaround with transparent calculations is quickly becoming the industry standard. This means that stand-alone point solutions, 'black box' calculations with no transparency, complex tools that require specialized scripting, or custom spreadsheets with 'key man' risk in the information chain no longer suffice.

Controlling today and preparing for the future can be enabled by adopting an enterprise Connected Planning approach. In recent years there has been a shift of focus from back office accounting and reporting systems to more disruptive Enterprise Planning platforms. Gartner has been covering the Cloud Financial Planning and Analysis sector for the past five-plus years and is a great source of information for which platforms address which parts of the enterprise planning value chain. These platforms have been embraced by numerous REITs and asset/ investment managers to complement their historic and financial reporting with powerful, forward-looking analytics from the granular lease level up to corporate or fund level forecasts.

With Connected Planning platforms, commercial real estate businesses can plan continuously and make decisions in real time. Their cloud architecture eases collaboration across the enterprise to streamline the planning process. What's more, some platforms also leverage the input of artificial intelligence and machine learning technologies to facilitate rapid, ongoing planning while factoring in signals and drivers from both inside and outside the company.

How the Platform Benefits Commercial Real Estate Companies
Market conditions continue to change at an increasing rate—showing no signs of stopping. For the commercial real estate industry, business leaders need to consider and plan for those changes in order to maintain positive cash flow, increase margins, make the most informed decisions, and report out quickly. This could be as simple as deciding if a below market lease is the best longer-term decision for an asset to evaluating the optimal time to exit an investment and reinvest the capital into new opportunities.

The Connected Planning framework enables teams to run more meaningful, forward-looking analysis with "what-if" analysis that helps assess portfolio performance and how macro-economic changes could impact performance, margins and even share price.

By engaging teams in a collaborative planning cycle—one that seamlessly connects bottom-up and top-down planning—business leaders can improve and gain more from company intelligence. Planning cycles are cut from months to days with far greater transparency and visibility into trends and outliers. Further, plans demonstrate thoughtful, intelligent, and meaningful analysis to help ensure that quarterly and annual results are achieved.

Vendors Addressing Connected Planning for Commercial Real Estate
There are a number of vendors whose products are being used within the commercial real estate sector to provide enhanced planning and modeling. Real estate clients are using these platforms across lease and property budgeting and forecasting, portfolio modeling, development CapEx planning, space forecasting, investment and fund modeling and debt, tax and corporate allocations, as well as marketing, HR, and treasury functions.

Adopters of specialist cloud-based planning solutions include Aviva Investors, Blackstone, British Land, Colony Capital, Courtland, GPT Group, Invitation Homes, Logicor, Prologis, Simon Property Group, and Vicinity Centres.

Anaplan (NYSE: PLAN), a leading Connected Planning technology company, offers a dynamic, collaborative, and intelligent platform to help companies make quicker and more informed decisions, which in turn drives faster, more effective planning across the enterprise. Anaplan's platform helps business leaders solve planning, forecasting, and reporting challenges in many different areas of the organization—whether it's property specific analytics or related to finance, operations, HR, or marketing. More than just the redesign of a particular process, the most significant benefits provided by the platform reside in the business synergies achieved by connecting the models across lines of business to improve business insights and make faster decisions.

Adaptive Insights, recently purchased by Workday, is another planning solution that focuses on corporate Financial Planning and Analytics (FP&A) as well as financial consolidations. Connectivity with the Workday ERP platform enables integrated, real-time impact analysis and scenario flexing not seen with traditional industry tools.

Other niche vendors who have expanded their offerings to real estate include Host Analytics, BOARD International, Vena and CCH Tagetik. Traditional real estate software vendors are also focusing on cloud-based planning, with Altus acquiring Taliance and releasing a new cloud-based offering of ARGUS Enterprise, Yardi enhancing their ABF and Forecast Manager modules, and MRI upgrading their core platform and enhancing their Investment Management suite.

The commercial and investment real estate industries are the real winners with this enhanced focus on Connected Planning!

Learn about new leading-edge solutions, including connected planning, which will be presented at Realcomm | IBcon 2019. The event will be held at the Nashville Music City Center on June 13 & 14 (Golf and RE Tech Tours June 11 | Pre-Con Events: June 12). Register today!

This Week's Sponsor
Yardi® develops and supports industry-leading investment, property management and energy management software for all types and sizes of real estate companies. For the energy market, the Yardi Pulse® Suite helps manage costs, consumption and sustainability initiatives. Yardi is based in Santa Barbara, Calif., and serves clients worldwide. For more information on how Yardi is Energized for Tomorrow, visit yardi.com.
Realcomm News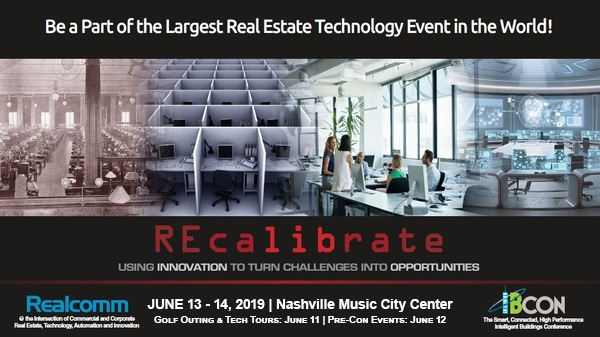 This year's conference theme focuses on how everyone in an organization needs to fully understand how the next chapter of the digital revolution will affect their role as well as the organization as a whole. It is time to
REcalibrate
, identify the challenges, embrace innovative ideas and discover new opportunities in the way we design, build, lease, operate, transact and use Commercial and Corporate Real Estate.
Watch the video to learn more:
UPCOMING REALCOMM WEBINARS
Top GLOBAL INNOVATIONS of 2019 Impacting Commercial and Corporate Real Estate - 12/12/2019
2019 will likely be another year of great innovations for the Commercial and Corporate Real Estate industry. With a multitude of new companies and ideas being funded by an insatiable appetite of investors, the traditional workflows and processes of Real Estate are challenged daily. Add to this a desire by the established marketplace to also innovate and the pressure of change increases. This webinar will bring together some of the industry's most prolific prognosticators who will discuss and debate the state of innovation in our industry for 2019. For those firms that are leaning into the change brought about by technology this is a perfect opportunity to hear about the leading solutions, case studies and best practices.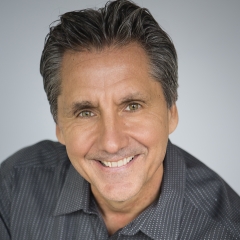 Jim Young
Co-Founder & CEO
Founder of Realcomm Conference Group, an education organization that produces Realcomm, IBcon and CoRE Tech, the world's leading conferences on techno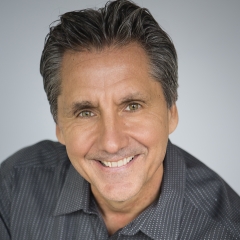 Jim Young
Co-Founder & CEO
Realcomm

Founder of Realcomm Conference Group, an education organization that produces Realcomm, IBcon and CoRE Tech, the world's leading conferences on technology, automated business solutions, intelligent buildings and energy efficiency for the commercial and corporate real estate industry. As CEO, Jim interacts with some of the largest companies globally pertaining to some of the most advanced and progressive next generation real estate projects under development.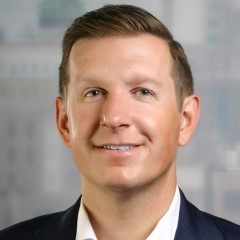 Jeffrey Chulick
Global RE Technology & Innovation Leader
Jeff Chulick is the Technology and Innovation Leader for EY Real Estate Services. He leads a global team of professionals focused on the identificatio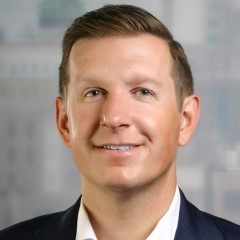 Jeffrey Chulick
Global RE Technology & Innovation Leader
EY

Jeff Chulick is the Technology and Innovation Leader for EY Real Estate Services. He leads a global team of professionals focused on the identification, innovation, design and realization of technology solutions that greatly enhance the workplace experience. His areas of focus include digital strategy, smart workplace, IoT, visual communications, workplace management, physical access and audio/visual technology. Jeff has over 20 years of enabling workplace strategies and delivering innovative solutions for EY and external clients across many different industries.