Vol. 18 No. 41 – 10/11/2018
Technology and Autonomous Vehicles Impacting Office Market Trends
Andrea Cross, Americas Head of Office Research, CBRE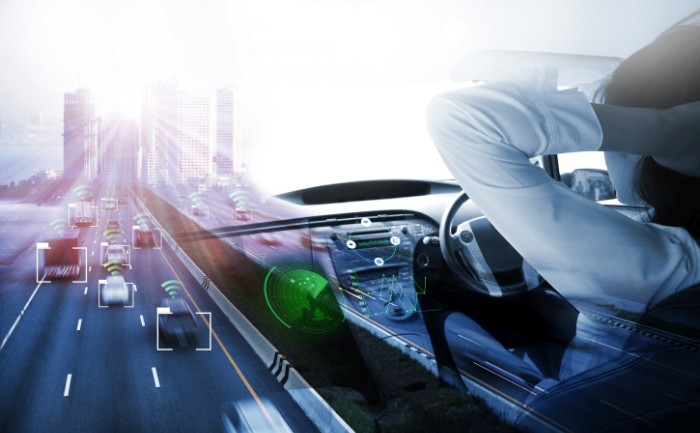 Vendor Profile
Technology has fundamentally changed the way that people work and commute, creating uncertainty among both office owners and occupiers regarding parking requirements. With many employees able to work seamlessly between the office, home, airports, hotels and other locations, many companies are allocating fewer square feet per employee in the office. And because many workers are not always in the office, parking needs are likely less than those for the denser employee configurations of the past.
In addition, mobile-enabled, on-demand transportation services, including shared and single-occupant vehicles, bikes and scooters, are impacting transit patterns and preferences. Although the car remains the primary mode of commuting in most markets, building owners are incorporating features such as pick-up/drop-off zones and tenant ride-sharing credits to support employee and visitor usage of these rapidly growing services. Autonomous vehicles (AVs) will be the next, much more significant transportation disruption and will present both challenges and opportunities for owners of office buildings and parking structures.

How are these technology and transportation trends impacting office parking usage and development? To better understand perceptions regarding the timing and nature of these changes, CBRE Research conducted a survey of approximately 200 commercial real estate professionals with CBRE Advisory & Transaction Services, CBRE Global Investors and Trammell Crow Company across the largest 15 U.S. and Canadian office markets. Findings specific to AVs and agile parking concepts are provided below. To read the entire report, download it here.

Don't Give Up Your Steering Wheel Just Yet

Heavy investment in AVs by automobile manufacturers and tech companies has heightened attention around the potential for this technology to fundamentally disrupt the real estate landscape. The question now centers on when—rather than if—this will happen. Nearly 60% of CBRE's survey respondents think it is unlikely that self-driving vehicles will be commonplace in the next five years.

Given uncertainty around the timing of full adoption of self-driving vehicles, many developers are focused on the current and near-term needs of tenants, while keeping an eye on the future. In line with CBRE's survey results, office investors with hold periods of 10 years or less generally are not demanding or willing to pay a premium for office properties with parking garages that are easily convertible to other uses.

Convertible parking structures require specific design elements that are more expensive and/or reduce the potential number of parking spaces, including higher floor-to-floor heights (in the 12- to 14-foot range for office and the 10- to 13-foot range for residential or hotel), flat floor plates and speed ramps. Given the high cost of structured parking construction, the tipping point for fully convertible parking structures to become standard in new office developments will likely not occur until investors require them. For some owners/developers with longer investment hold periods in which self-driving cars may become ubiquitous, the cost of building an adaptable parking structure is justified.

Some developers are incorporating automated-vehicle stackers that can accommodate more cars than a traditional parking garage. At The Hive, a mixed-use community in Oakland, CA, the automated parking structure can accommodate 39 vehicles in the amount of square footage typically required for seven vehicles. This enables more efficient usage of the space and significantly reduces the amount that will need to be converted for other uses following full adoption of self-driving cars.

"Urban-suburban" properties that have many employees commuting via mass transit and in single-occupant vehicles present unique challenges. These buildings typically require a significant amount of parking due to the volume of employees who drive to work, but may require less parking in the future.

In response to this, Trammell Crow Company's 929 Office Tower in Bellevue, WA, features a parking structure built half above-grade and half below-grade, meeting current tenant demand for parking but providing the option to demolish the upper portion and build an alternate use over the subterranean parking. Future use changes for parking structures and lots will require owners to partner with cities and municipalities to secure any required zoning changes.

Outlook
Although survey respondents largely agreed that AVs will not have a near-term impact, owners and occupiers will need to remain agile in the face of the rapid and unpredictable changes effected by technology. The meteoric rise of now-ubiquitous technologies, such as the iPhone and services like Uber/Lyft and Airbnb, during the past decade demonstrate how quickly and profoundly disruptors can impact real estate usage and preferences.

Developers and owners should respond to current transportation preferences while keenly monitoring the technological and regulatory landscape of emerging technologies, such as self-driving cars, as well as shifts in investor perspectives on the value of parking. This approach will best position them to capture both current and future tenant and investor demand.



This Week's Sponsor
CBRE, a Fortune 500 company headquartered in Los Angeles, is the world's largest commercial real estate services and investment firm based on 2017 revenue. It employs 80,000 people and serves real estate investors and occupiers through approximately 450 offices worldwide. CBRE offers a broad range of integrated services, including facilities, transaction and project management; property management; investment management; appraisal and valuation; property leasing; strategic consulting; property sales; mortgage services and development services. Please visit our website at www.cbre.com.
Realcomm News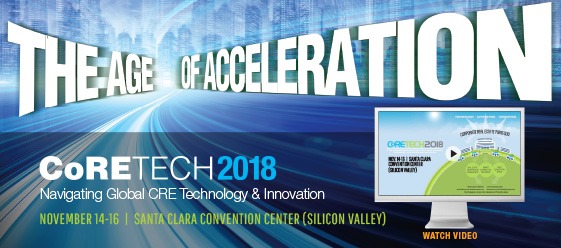 The World's #1 Program on Corporate Real Estate,
Facilities, Technology & Innovation
EARLY BIRD REGISTRATION EXPIRING OCT. 12!
Realcomm is pleased to present the CoRE Tech 2018 program! Nowhere in the world will you find a more forward-thinking and robust program that is focused on Corporate Real Estate and Facilities at the intersection of Technology, Automation and Innovation. We invite you to review the
PROGRAM DETAILS
and join us as we continue to better understand how technology is impacting our industry.
Join us at CoRE Tech 2018 on Nov. 14 – 16 in Silicon Valley to collaborate, learn and explore how Technology, Automation and Innovation are changing the way we operate and use Corporate Real Estate and Facilities.
Early bird registration expiring Oct. 12
,
REGISTER NOW!
UPCOMING REALCOMM WEBINARS
Smart Building DIGITAL TWINS – Demystifying the Building Visualization Technology - 3/12/2020
From design and construction to operations and maintenance, building processes can be represented by millions of data points. A Digital Twin, the contextual model of an entire smart building ecosystem, serves as a repository of data from BIM, the BAS and sensor networks associated with the building's infrastructure. It acts as a bridge between the physical and digital world, as the dynamic replica is fed real-time data from actual operations of the physical asset. AI and machine learning integrations help to contextualize and process that data to uncover operation optimization opportunities within the virtual environment that can be applied to the real building. This webinar will demonstrate the current state of Digital Twins in the built environment and feature the most relevant, practical and successful case studies surrounding the technology.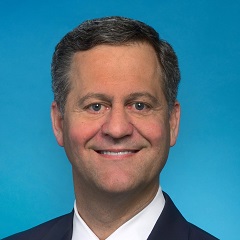 Tom Shircliff
Intelligent Buildings
Tom Shircliff
Co-Founder
Tom Shircliff is a co-founder and principal of Intelligent Buildings, a nationally recognized smart real estate professional services company that was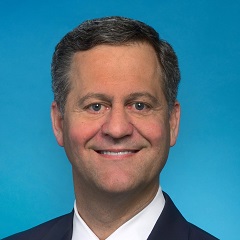 Tom Shircliff
Co-Founder
Intelligent Buildings

Tom Shircliff is a co-founder and principal of Intelligent Buildings, a nationally recognized smart real estate professional services company that was started in 2004. Intelligent Buildings provides planning and implementation of next generation strategy for new buildings, existing portfolios and urban communities. Tom is a speaker and collaborator with numerous universities and national laboratories, a gubernatorial appointee for energy strategy and policy and founding Chairman of Envision Charlotte, a Clinton Global Initiative.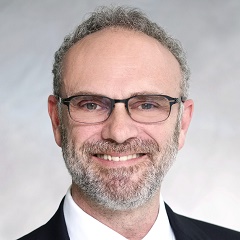 Matthew Lennan
Oxford Properties
Matthew Lennan
Innovator in Residence
Matthew Lennan has been integrating IT and building system technologies for more than 30 years. He has developed and implemented computing infrastruc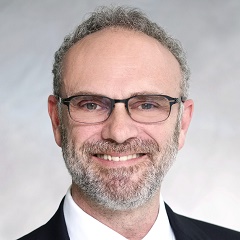 Matthew Lennan
Innovator in Residence
Oxford Properties
Matthew Lennan has been integrating IT and building system technologies for more than 30 years. He has developed and implemented computing infrastructures for global financial firms, major healthcare facilities, manufacturing, entertainment complexes and traditional smart buildings. Most recently, Matthew has been working in software development to refine the customer experience for smart buildings in Office, Retail and Residential environments. He is currently responsible for driving Innovation across Oxford Properties' portfolio.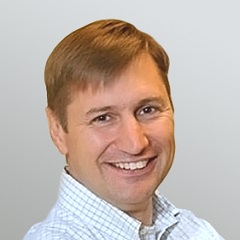 Marty Chobot
VP of Marketing
Marty works with CRE clients to understand their needs and challenges, and then translates that knowledge into strategies for Digital Twin solutions a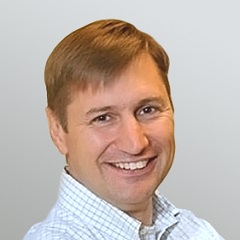 Marty Chobot
VP of Marketing
Invicara
Marty works with CRE clients to understand their needs and challenges, and then translates that knowledge into strategies for Digital Twin solutions and, ultimately, successful projects and compelling stories. Marty has helped bring technology products to market for more than 25 years. Prior to joining Invicara, he served in marketing, product management and business development roles for a wide range of software companies and founded two consulting firms.