Print this article
Lines between products, services, and user environments are blurring. To serve end customers better, companies of every size are focusing on improving customer touchpoints along the way. But within the workplace environment, who, exactly, is the customer? And are we missing critical opportunities to craft a seamless – and singular – customer experience?
Growing numbers of companies are coming to recognize the benefits of customer-centric strategies: higher revenues, lower costs, and stronger employee and customer loyalty. In the effort to transform customer journeys and improve customer service, however, many companies neglect to engage the whole organization, including its support functions, in a customer-centric transformation. By leveraging customer experience best practices, to deliver support services, the workplace itself can also be transformed.

1. Understand the Journey
The starting point for delivering value to customers is understanding the end-to-end journeys your customers take to accomplish a task, such as buy a product, plan a meeting, experience a product, resolve a dispute, adjust a service, etc. These journeys are often complex routes across websites, social media, stores, customer service, and myriad other interaction points.

Within the workplace services environment, these interaction points could be viewed as "micro-touchpoints" – small, behind the scenes support tasks, such as requesting a conference room including specific requirements, ordering inventory, maintaining a facility, or shipping a product. The routes these various tasks and items take – across one site or multiple sites –create "micro journeys" – and the way they are tracked, accomplished and delivered, has a pretty big impact on the overall customer experience.

When crafting a customer experience, getting support services involved is essential to understanding the hundreds of touchpoints across the workplace environment that offer opportunities for improved experience – places where bottlenecks historically happen, for example, or points along the journey where financial risks increase. Outsourced CRE providers, too, have a wealth of workplace knowledge and can often help set new metrics for improved service for your customer.

2. Know your Customer
And speaking of customers, how, exactly, do we define them? In a workplace environment, your customer may of course be your end client, but it is also your employee.

As consumers, we have a strong preference for processes and technologies that drive efficiencies, productivity and enjoyment in our personal lives. For employees, these same preferences are clamoring to be deployed in the workplace – today's workforce wants consumer-driven tools (like personal apps and mobile devices) that bring the same productivity to their professional lives.

Whether an end client or an employee, individual workplace services can make or break an experience – and be critical to success. And while each customer may have different interaction points, experience different impacts and anticipate different outcomes, they all have come to expect workplace services to perform without any perceptible glitches.

3. Make Every, Single, Touchpoint Visible
Even when workplace services are attended to with the customer experience in mind, silos of information make a seamless journey a real challenge. In most workplace environments, customer interaction points are managed by multiple different functions within the office (various departments, business units, sites, and roles) and multiple silo tools. Data may reside in technologies that never speak to each other. That means an employee who orders a supply will often have no idea that inventory is available right across the hall, for example. Or a service that was requested yesterday was never actually issued -- and an employee arrives to discover their conference room in complete disarray. Or one property in a CRE portfolio is utilizing space efficiently, while another may be sitting completely empty. The issue, of course, is lack of visibility – and whoever your customer is -- they expect you to act consistently across all these touchpoints, when none of the touchpoints are even aware of one another.

4. Design Workplace Technologies from the Outside-In
Along with lack of visibility comes a long-standing and semi-myopic view that begins and ends with the desire to simplify an internal, back office support process – without factoring in the customer at all. Companies have typically designed their workplace support services using technologies and methodologies with an eye toward simplifying internal processes. They may build systems that automate internal transactions such as "request to delivery" and forget all together the need for employee desktop or mobile automated notifications and alerts. In the most basic sense, people have been the missing variable in the digital workplace equation. Instead of the prior decade's obsession with business IT alignment, enterprises must now pursue a more balanced approach to technology that's equal parts business, and human experience.

Because automating a task without providing easy access to data, or generating reports you can't run on demand, or streamlining a process you can't check on from your mobile phone or your computer – does not help the workforce, or ultimately, the workplace.

In the workplace, understanding the experience and expectations of employees is crucial because they can become the unifying principle for the business. Employees stop thinking only about their own functions and individual tasks and instead start thinking about customer journeys in which the client, or the co-worker, transfers data seamlessly and transparently from one phase to the next. That requires an integrated process, so that each part of the business delivers consistent, timely, and relevant content as part of a complete customer journey experience.

Case Study: How One Micro-Touchpoint had Several Macro Impacts
The beautiful thing is that even a single, micro-touchpoint improvement can greatly improve the overall customer experience. For example, one of world's top 10 banks saved money AND improved customer satisfaction by shoring up a single internal support process, using Bear River's flagship product, Bear Tracks™. Banks and other financial service companies receive and send debit cards between their branches. In order to secure this process and comply with numerous laws and regulations, the bank needed a complete chain of custody and total visibility of the inventory delivery and shipping process, from start to finish. They set out to track an end-to-end micro-journey – to improve a single internal process that would provide a complete chain of custody of these debit cards through space and time. In the process, they saved $300K annually in debit card stock distribution and avoided $500K annual cost through centralized office supply distribution. But perhaps most crucially, they significantly enhanced the customer experience. The visibility they received by automating and integrating this one, end-to-end micro-journey improved the delivery time of debit cards for customers – going from a 12-day delivery cycle down to 2 days.

Agile, integrated, workplace technologies like the BearTracks solution, can provide visibility across key touchpoints and various interaction points along the journey, with the goal of capturing a record of every, single transaction on each task or item that travels across the workplace. This provides a dataset that can not only help you better understand the journey for continual improvement, but also directly impacts the experience of your employees, clients, and service providers.

---
This Week's Sponsor:
Bear River's flagship product, BearTracks, is a fully scalable enterprise software designed to help companies of every size track, report and manage critical office services – from mail & parcels, print & copy, supply & assets – to facilities & hospitality. Whether you have one site or hundreds, BearTracks provides real-time operational insights to help meet and exceed even the most ambitious service goals, turning everyday workplace functions into true competitive advantage. www.bearriver.com
Next Week: CRE Tech 5.0
Realcomm News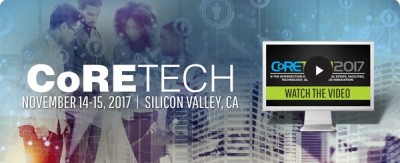 Where Will the Most Innovative Executives in
Corporate Real Estate and Facilities Be on Nov. 14 & 15?
Below is a partial list of those companies attending...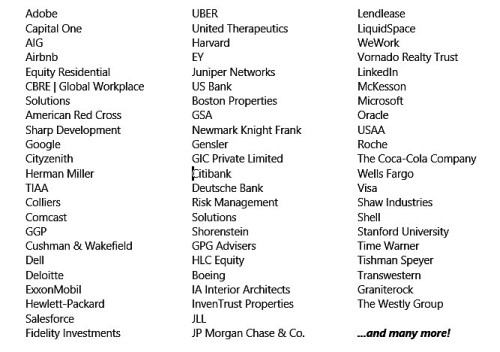 AI/Machine Learning & CRE: How Close are We? - 11/9/2017
AI has been featured in many science fiction movies and recently, a top team of Google AI specialists beat the Korean Go Champion four out of five times. We are also see it finding its way into phones, autonomous cars, office functions and more. As AI is proving that it is a viable technology, what will this mean for Commercial and Corporate Real Estate? This webinar will examine to what extent our industry is adopting AI.
Register now!
---