ADVISORY NEWSLETTERS

Vol. 17 No. 30 – 7/26/2017
Early Adopters of Smart Building Technology Will Have the Advantage
Jon Bolen, COO, ENTOUCH
As CRE leaders begin to leverage technology to maximize profits, smooth operations and delight tenants, a less progressive perception still lingers. In a panel discussion offered at the Realcomm conference in San Diego last month, a comment from one of the presenters sent an uncomfortable wave of chuckles rippling through the room. Addressing the group of commercial and corporate real estate and technology professionals, the presenter declared, "We're changing, and it's not a decision. We don't want to be Luddites 15 years from now, making horse carriages."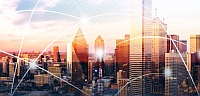 The comment was made in reference to the force of innovation and change in commercial real estate, and how typically slow the industry is to adopt new ways of thinking. As you know, the Luddites were a 19th century labor group that protested the introduction of technology for fear their skills would be replaced by machines.

According to a Navigant research study commissioned by ENTOUCH, a provider of smart building solutions and managed services to multi-site companies across North America, smart building technology investments are beginning to gain momentum. Revenues generated from the sale of commercial IoT devices, a core technology used in smart buildings, are projected to rise at a compound annual growth rate (CAGR) of 8.2 percent over the next 10 years.

Still, CRE executives remain cautious. As one Navigant survey respondent and president of an international CRE services firm put it, "Change is so dramatic, and fear of the unknown is real."

Expert panelists at Realcomm corroborated the notion, citing a less than three percent adoption rate of smart building technology among CRE enterprises, despite CRE staking a 14 percent share of gross domestic product. One panelist went so far as to suggest that venture capital investments have been "more aggressive in cannabis" stocks than in CRE technology.

So what is the hold up? Could it be "success?" The suggestion of one Realcomm executive was, "Yes, we're a skeptical bunch, because we're successful." CRE companies have made money consistently over many decades, so what's there to change?

Study Shows Industry Prime for Change
The Navigant study suggests there is much to change, and it is benefiting the early movers in surprisingly short order. Historically, the CRE business has centered on conducting transactions, writing lease and sales contracts, and supporting tenants through siloed facilities management and business services. However, a powerful new consumer group known as millennials is now challenging this status quo. They bring a new set of expectations to the negotiating table, desiring a technology-enabled experience at work and at home, delivered in an eco-friendly and sustainable manner. And, they can be no longer be marginalized or ignored. A recent Brookings report predicted that Millennials will make up nearly 75% of the workforce by 2025. Long-term revenue growth and profitability will depend on satisfying this dominant and increasingly influential demographic.

To leverage this market dynamic – and more importantly, to avoid being perceived as irrelevant – CRE decision-makers must agree to adopt smart technology, and then acquire the technical resources to integrate it into existing systems. It's not just about deploying technology for technology's sake. It's about improving the business and sustaining success well into the future.

As one survey participant put it, "A building is a building. They have changed very little. But, experience and use has changed significantly, and we need to understand that."
Measurable Benefits for Those Willing to Make a Move
For an industry that prides itself on long-standing success, the best place to start is by examining how technology can achieve fundamental business goals. Three key priorities are well worth examining:
Maximize Profit: Making the most out of every lease and sale is what defines CRE success. The fact is, millennial executives will go the extra mile to set up shop in a building that supports a tech-enabled workspace and protects the environment. Because of this, smart buildings retain tenants longer and sell for higher profits. In light of this, the market for global building energy management systems (BEMS) is expected to grow to $5.2 billion by 2020, at a CAGR of 17 percent from 2017.

Optimize Management: Reactive equipment repair and maintenance is expensive. Boots on the ground and truck rolls eat up CRE profits fast. Conversely, smart buildings promote proactive maintenance. Using real-time data, smart building managers cut cost by recognizing problems before they get out of hand. This reduces the number of truck rolls and improves long-term decisions relative to equipment investment and replacement.

Increase Tenant Satisfaction: Strong landlord-tenant interaction breeds loyalty which breeds tenant retention. Smart buildings facilitate the interaction by responding to tenant needs, supporting both an integrated, technology-enabled workplace and conscientious energy management practices. With smart building solutions in place, landlords can achieve:

Dynamic lighting and HVAC control for improved tenant comfort.

Proactive, responsive facilities management using real-time information delivered via IoT technology.

Significant reductions in energy consumption for a more attractive brand and healthier bottom line.

The "D" Word No Longer a Threat
So, if smart building technology can really support all that, why aren't more CRE firms jumping into the smart building pool?

The answer may be that, historically, smart building technology has presented mostly point solutions on the way to a patchwork version of nirvana. One HVAC remote monitoring solution gets deployed here, followed by a lighting control system deployed there, leading to a separate security sensor system deployed somewhere else. In short order, more chaotic disruption is created than cohesion, amounting to what one Realcomm panelist labeled "the D word," anathema to CRE executives everywhere.

The good news is smart building technology has evolved appreciably. Advances in technology and partnerships among technology companies have addressed much of the patchwork problem. And, with proven cloud-based Software as a Service (SaaS) now an accepted reality, the cost to incrementally implement a program has dropped dramatically, eliminating upfront capital costs and paving the way for adoption by subscription service.

To quote Navigant Research, "IoT smart building systems represent a coordination of technologies and advisory services that create a new infrastructure in commercial buildings to enable the changes in processes and the benefits described above."

Namely, information technology, a core driver in the IoT movement, serves to facilitate system integration, networking, communications, and data management. It effectively collects and communicates actionable information from building systems, including legacy systems, to CRE stakeholders, for improved analytics and proactive facilities management.

As well, the pressure for CRE firms to technically staff up is no longer a table stake. Outsourced advisory services have bridged the gap, allowing CRE executives to focus on what they do best, while trained professionals provide 24/7 vigil over critical systems.

This combined IoT platform now offers CRE firms the technical expertise, integrated technology and single version of truth required to effectively manage equipment, reduce energy consumption, improve tenant service, differentiate in a crowded marketplace and supercharge the bottom line.

An Industry on the Brink of a Breakthrough
In all fairness, CRE executives today do not deserve the Luddite label. Luddites, after all, marched against and destroyed the technology they so feared. Conversely, the CRE world is actively seeking new input and embracing smart building technology with great interest.

As the record turnout for Realcomm's technology panel recently demonstrated, today's CRE industry is ready for a new injection of success. And smart building technology is providing it. Wherever there is a way to maximize profits, optimize management and increase tenant satisfaction, you can be sure CRE leaders will be leading the charge.


This Week's Sponsor

ENTOUCH provides smart building solutions and managed services to multisite retailers, restaurants and commercial real estate firms across North America. With fully integrated, cloud-based software and sensors, and 24/7 advisory services and support, ENTOUCH renders a 360°, enterprise-wide view of the entire facility ecosystem. Leveraging ENTOUCH facilities professionals gain real-time decision support to lower energy consumption, improve business efficiency, extend asset life and create a more satisfying tenant and end user experience. To learn more, visit https://entouchcontrols.com/

UPCOMING REALCOMM WEBINARS

CRE Tech Innovation Showcase - Uncovering the Next Generation of New Ideas - 7/12/2018

Never before in the history of the Commercial Real Estate market has technology been so prevalent. Since 2009, hundreds—if not thousands—of companies selling tech to the Commercial Real Estate Industry have emerged. Estimates now suggest there are more than 2,000 new CRE Tech companies in the space. The sheer number of new companies makes it almost impossible to keep up and organizations are struggling to establish an effective process to discover, organize, vet, test and implement new technologies. This webinar will evaluate the categories of technologies, best practice criteria, and clarify different solutions that are making their way to the top of the list.