ADVISORY NEWSLETTERS

Vol. 17 No. 30 – 7/26/2017
2020: A Day in the Life of a Placemaker
Nancy Johnson Sanquist, Planon & Diane Coles Levine, Workplace Mgmt. Solutions
Our story is about a day in the life of fictional Wendy Welch in the year 2020. Wendy has an architecture degree from Columbia University and an MBA from California Arts College where she studied design strategy, design thinking and sustainability. Her education prepared her well for her current role at a global consultancy firm, where she also serves as the 'Placemaker' in the firm's newly formed Digital Workplace Alliance (DWA).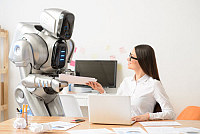 Wendy is an American who moved to work in London as part of the most exciting digital business project in her industry at the time – the Digital Built Britain (DBB) initiative. This was a government-led program introduced in 2016 to encourage the development of standards, methods and technology to accelerate the adoption of BIM and its benefits for economic growth and improving construction project delivery in the UK. As a BIM expert, Wendy understands its value to create 'digital twins' – digital models that integrate and optimize data through the entire lifecycle of buildings, from planning through design, construction and finally, management and optimization. She also understands the importance IWMS for interfacing with BIM, and collecting and managing the invaluable data she needs to plan and manage real estate portfolios – no matter what device she is working on, in the office or out in the field.
It is the beginning of Wendy's workday in London. As a Placemaker Sector Leader, she has several things she needs to accomplish today:
Find a room for a team meeting by using her digital assistant

Discuss placemaking issues with the Digital Workplace Alliance

Review space plans in 3D for a remodel

Contract a neighboring co-working center for temporary space for employees

Access her IWMS to review the entire real estate portfolio in London for optimization opportunities

Visit the Innovation Lab and check on furniture and parts production utilizing a 3D printer

Review the condition of a roof from a photo taken by a drone

Visit the construction site in Canary Wharf with a virtual team utilizing mixed-reality
Although these tasks can be described simply, they are quite complex. A few years ago, in 2017, the tasks would have taken her several days to complete – some at great risk and cost. Today, using the new technologies available to her, she can get this all done in a few hours and meet her friends on-time for happy hour at the end of the work day.
Wendy begins her day when her autonomous office picks her up at home. Gone are the days of driving yourself to work.
Flexible work spaces, like this 'WorkonWheels pod', can provide more accessible work environments. Source: Ideo
While on the road, she first schedules a room for a team meeting later that morning. She tells her digital assistant to book a room in a co-working center in the heart of London. She then uses her phablet (smartphone combined with tablet) to display the location and best route to her next meeting with the DWA, an executive team that includes: Omar, the Digital Transformation Guru; Erik, the Human-Robot Interaction (HRI) Sector Leader; and
Wendy, the Placemaker Sector Leader, formerly known as the Director of Real Estate and Facility Management
. The role of the Alliance is to ensure cross collaboration and strategic planning of people, places, processes and technology. Some of the issues the group is grappling with include:
Robo-bosses are more prevalent in the workplace. Wendy notes that one robo-boss keeps sending his human employees to work in the basement in a room with poor lighting, near a noisy boiler. Clearly this robot boss doesn't completely understand the correlation between human productivity, acoustics and lighting. Wendy's team will need to review data and heat maps to find a better place for Dexter's human employees.

Wendy created a Building Digital Workplace program within the broader DWA for work performed by her placemaking team. They are knowledge workers with specialized requirements for the work they do in choosing the right locations, designing and building, as well as operating, maintaining and creating new strategies for all the places they own and lease (including autonomous offices), wherever they are in the world.

Place utilization is an entirely different problem now that humans and robots inhabit the same space. Wendy notes that there are utilization issues, as service delivery and maintenance robots are traveling through areas that are also being used by humans for collaboration. Her team will need to revisit robot-human sensor data to create the best design to re-route the robots. Omar's team will have to reprogram wayfinding for the robots and Erik's team will have to discuss with human workers and review policies.

Her portfolio of smart buildings is vulnerable to security breaches and digital vandalism which can cause economic, health and safety problems. As part of their weekly meeting, the Alliance reviews security breaches, addresses vulnerability risks and develops a strategy for mitigation and avoidance.

Machine and sensor generated 'Fix Me' requests are coming in at a high rate. The Alliance examines the current strategy, bottlenecks, and machine-to-machine, machine-to-human, and human-to-machine processes to recommend improvements.

The Alliance evaluates all the key performance indicators (KPI) for the digital workplace. Wendy's Building Digital Workplace data reveals the latest environmental and wellbeing KPIs for each of the buildings generated by real-time updates made to the IWMS from the sensors that monitor and automatically repair the building management systems, as well as from the people analytics monitoring systems. IoT provides information representing the DNA of each structure. Wendy has created a Building Balanced Scorecard with this data and Alliance members and other executives, with permission, can access the dashboard to monitor the performance of each of the buildings in the portfolio in real time.
At the close of the meeting, Wendy recalled the impetus of the Building Digital Workplace program, which was the brain child of Gartner analysts who advised the Digital Transformation Sector on the latest concepts in technology. It was truly an 'aha' moment when one Gartner analyst explained to Omar that although they had made great strides with Erik on engaging and retaining their top talent by implementing new software and hardware tools, they had missed one vital component. They were missing the Placemakers – real estate directors, architects, interior designers, environmentalists, wellbeing experts and all the people who are responsible for the physical workplace. These people also needed key technologies to help them create and manage the kind of workplace optimized for both humans and robots to support the business.
As one of a team who embraces technology, Wendy uses her skills, along with the others, to utilize augmented and virtual reality and their knowledge of analytics, IWMS, 3D printing, scanning, drones, RFID and other technologies to create entirely new and innovative ways to transform the work of placemaking. Gone are the days when facility management was considered a job for low-level technicians or administrative functions. In the new placemaking paradigm, the job of using these innovative technologies to create and maintain the building during its life-cycle is strategic for the business. It enables the creative consulting geniuses, both employees, contractors and machines, to do their jobs (and increase revenue) as they interact with their customers in an energetic, agile, collaborative, sustainable and healthy environment – which can be accessed 24/7 for any type of work/play/living needed to increase the economic performance of the company.
As the story closes, we bid Wendy goodbye as she rides away to happy hour in a personal rapid transit vehicle.
This Week's Sponsor
ENTOUCH provides smart building solutions and managed services to multisite retailers, restaurants and commercial real estate firms across North America. With fully integrated, cloud-based software and sensors, and 24/7 advisory services and support, ENTOUCH renders a 360°, enterprise-wide view of the entire facility ecosystem. Leveraging ENTOUCH facilities professionals gain real-time decision support to lower energy consumption, improve business efficiency, extend asset life and create a more satisfying tenant and end user experience. To learn more, visit https://entouchcontrols.com/
UPCOMING REALCOMM WEBINARS
CRE Tech Innovation Showcase - Uncovering the Next Generation of New Ideas - 7/12/2018
Never before in the history of the Commercial Real Estate market has technology been so prevalent. Since 2009, hundreds—if not thousands—of companies selling tech to the Commercial Real Estate Industry have emerged. Estimates now suggest there are more than 2,000 new CRE Tech companies in the space. The sheer number of new companies makes it almost impossible to keep up and organizations are struggling to establish an effective process to discover, organize, vet, test and implement new technologies. This webinar will evaluate the categories of technologies, best practice criteria, and clarify different solutions that are making their way to the top of the list.