Print this article
Technology is expanding our ability to collect, analyze and transfer information in ways not previously imagined. From building sensors to smart contracts to cryptocurrency transfers, blockchain technology is shaping up to be a powerhouse and a major disruptor to the real estate industry and the world.
What is blockchain? It is a distributed digital ledger that changes the way information is stored and shared between parties with no central database to hack. It resides on a virtual network, not within a single organization and uses encryption with both private and public keys for access. This distributed ledger approach includes a time stamp and stores value exchanges in a permanent record, making it extremely difficult (some say impossible) to alter a record as it would require rewriting the history of the record with all participants watching.

Bitcoin is one of the most recognized applications of blockchain technology. Others include Bitshares, Ethereum for smart contracts, and Abra, a smart wallet application. Platforms built on modified blockchain technology are being explored that can pair smart contracts, payments and property details on a shared system in real time. International investment settlement transfers currently can take three days or more; blockchain technology can reduce the time to mere minutes. The impact of this change to transactions is nothing short of extraordinary.

On the continuum of technology-based evolution, we've experienced the Internet of Things moving toward the Internet of Everything. With blockchain technology driving Bitcoin and other cryptocurrency applications, we are rapidly moving to the Internet of Finance. The financial services industry likes the security and other features of the technology, and some major players have already invested heavily in it. One large financial institution has more than 35 patents either approved or pending based on this emerging technology.

Regulators are looking at the technology with interest, and a Blockchain Innovation Center opened in September 2016 in Washington, D.C. as a joint venture between the Chamber of Digital Commerce and Technology Incubator 1776. The center is focused on fintech applications, aiding regulators and governmental agencies at all levels to understand the benefits of the technology and address issues including asset registry, cybersecurity and identity management.

How fast is this new technology moving? The World Economic Forum estimated in August of last year that about 80 percent of top global banks will have launched blockchain projects by 2017, describing the technology as the future "beating heart" of the financial sector.

A gathering of U.S.-based banks are proactively engaged in building a blockchain-inspired platform and are driving an international initiative through the R3 Consortium. This commercial venture includes more than 70 of the largest financial institutions globally with the heaviest concentration of members from North America.

Blockchain is based on a single source of truth, and mandates a standardized approach to the collection and distribution of information that populates the ledger and drives decision making. Consistency and transparency are an integral part of this approach. The efforts of the R3 Consortium demonstrate financial institutions have firmly planted a stake in the ground, and intend to identify ways to monetize this new technology.

Are you prepared? Standards implementation is a critical step to prepare for this new technology that will no doubt change the way business is conducted globally.

The potential impact of emerging technologies including artificial intelligence, blockchain and others on our industry cannot be ignored. Other industries including financial services have made firm and funded commitments to explore how these technologies can be implemented in their business, with collaborations formed that have already completed a variety of pilot projects.

There is an inherent danger in doing nothing to prepare for the changes ahead. Business plans need to include initiatives that address these emerging technologies and explores their impact and potential application to the real estate industry. It's time for a collaborative and proactive approach that ensures these emerging technologies can be harnessed to best meet the needs of the industry. The stakes are high. Standards, effective data governance and emerging technologies are forever intertwined as we move forward to explore the possibilities.

Blockchain is just one of the CRE Tech 5.0 topics that will be presented by thought leaders at Realcomm | IBcon 2017 on June 14-15 in San Diego.
---
This Week's Sponsor:
Now in its fourth decade, Yardi® is committed to the design, development and support of software for real estate investment management and property management. With the Yardi Commercial Suite™, Yardi Multifamily Suite™, Yardi Investment Suite™ and Yardi Orion™ Business Intelligence, the Yardi Voyager® platform is a complete real estate management solution. It includes operations, accounting and ancillary processes and services with portfolio-wide business intelligence and platform-wide mobility. Yardi is based in Santa Barbara, Calif., and serves clients worldwide from offices in North America, Asia, Australia, Europe and the Middle East. For more information, visit www.yardi.com.
Next Week: Business Solutions
Realcomm News
DIGIE AWARDS CALL FOR NOMINATIONS: Due By June 1!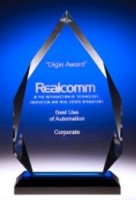 Realcomm has been presenting the "Digie" Award (short for Commercial Real Estate Digital Innovation Awards) since 1999.
The purpose of the Digie Award is to recognize those companies, real estate projects, technologies and people that have gone above and beyond to positively impact our industry through the use of technology, automation and innovation!
In 2012, we created separate award categories for Realcomm and IBcon to more clearly address the difference between automating real estate business processes and creating intelligent building systems, buildings, portfolios and cities.
For more information on award categories and/or to nominate an outstanding individual, project or organization, visit:
Realcomm Digie Awards
IBcon Digie Awards
What's Next for the Real Estate Cloud? - 6/1/2017
This webinar will provide a comprehensive and candid look at our industry as it relates to cloud computing and will attempt to set a benchmark regarding this technology. No, maybe, yes or all the way is just one of the questions to be addressed.

Register now!
---