Print this article
Stick around long enough at a conference and you'll hear someone talking about how to make big data small. I agree with the sentiment, but the statement still implies a focus on the bulk of data you can amass rather than the decisions you need to make, and how the data might provide insight to inform those decisions. Many executives still rely on manually intensive analysis in Excel and/or scrap paper – even when dashboards and advanced analytics are available.
This often happens because the design of the tools focuses on the amount and type of data available, rather than on the relationships within the data and how they relate to real world decisions. The promised benefits of big data still aren't being fulfilled, mostly because data is not enough, no matter how big it gets.

Left to their own devices, information visualization designers are likely to have tunnel vision; excited so much by what can be measured but losing sight of what should be measured. So much data is now available that the 'what' and 'how' of visualization are practically unlimited. What can be missed is the 'why' – if you start there, working backwards into the datasets based on the decisions you need to make, you'll find in most circumstances a set of five or fewer key metrics tailored to your specific decision-making will yield the most practical value.

However, picking the right Key Performance Indicator (KPI) is easier said than done. Asking your staff or facility management provider to show you every stat they can pull is a faster, simpler decision to make. The most commonly selected KPIs for facility management in commercial and corporate real estate fall into five categories:
Financial Performance: This varies based on company structure and business model, but it comes down to the dollars and cents: forecasted vs. realized revenue for a given period, capital spend vs. budget, year-to-date non-budgeted expenses, etc. For this type of KPI, it's critical to identify a benchmark or point of comparison. $1 million in monthly expenses may look normal if you can't see that operating expenses for the same period last year were only $500,000.

Operations: This type of KPI should let you see at a glance if your day-to-day operational performance is where it needs to be. Common examples in this category are completion percentages for work orders (overall, by priority, vendor, etc.), scheduled inspections and preventive maintenance during a specific time range.

Strategic Impact: I haven't mentioned goals or objectives yet; they come into play here. This category is about understanding how well facility or property management is aligned with the strategic direction of the company. If cost reductions are a major focus, how are you helping to achieve that goal? Green initiatives are often included under this heading too.

Customer Satisfaction: For commercial real estate companies, this revolves around tenant satisfaction and retention. Corporate real estate is being held to very similar standards for employee satisfaction, retention and the ability to use space to attract talent. There are different ways to measure satisfaction, from happiness with the completion of a specific work order to average lifetime value of a tenant.

Value-Add: How are you going above and beyond what's expected? Lately, we've seen clients using this type of KPI to assess how processes and technology are resulting in time, labor or cost savings.
Because managers don't have the time to look at every possible operational metric, you need to be able to manage by exception, relying on automatic alerts when critical areas of operations – based on the KPIs you set – aren't hitting performance targets. That's where your technology stack comes into play.
For your team in the field, this means getting proactive notifications at the most granular level. For example, getting text or email notifications when high priority work orders or work orders of a specific type aren't completed within a certain time range. For tenant coordinators, they don't need to know about every work order satisfaction survey that's completed, but they should know when survey scores are below an acceptable range so they can proactively reach out to those tenants.
Once you have determined the right KPIs to keep you on track, you can begin to work on individual areas of your business which have improvement potential. And, now that you are monitoring your KPIs on an ongoing basis, you can measure the effect of targeted process improvements on those KPIs in real time – making smart, informed decision making much easier.
---
This Week's Sponsor:
AwareManager provides facility management solutions for the world's most recognized facilities and organizations, including world-class commercial and residential property portfolio management firms, corporations, sports organizations and hospitals nationwide. Visit www.awaremanager.com.
Next Week: Special Edition
Realcomm News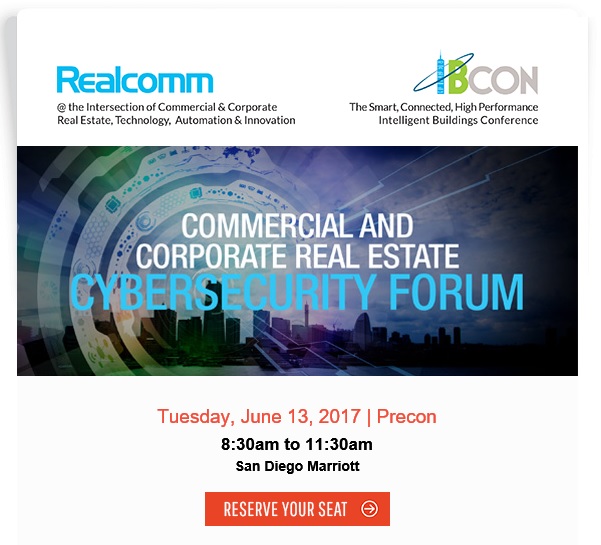 Join Us for the CRE Industry's Most Important Cybersecurity Event on June 13!
Over the past decade, weaponized code delivered by malicious actors has evolved to be one of the greatest threats to our country's welfare and economy. Cybercrime affects everyone, from individuals to enterprises to government. It was inevitable that cyber threats would eventually find vulnerable commercial real estate targets, both at the enterprise as well as building infrastructure level. To make matters worse, the threat of breaches increases as IoT becomes more integrated into our commercial real estate assets and our daily activities.
This Forum will bring together industry thought leaders to address the most impactful cyber threats, leveraging experience and knowledge to set benchmarks for cybersecurity strategy.
You must be a
registered
Realcomm
|
IBcon
conference attendee in order to attend the Forum.
Space is limited,
so once you are registered for the conference, please RSVP to:
Cheri Parr
| Phone: 310-421-4362 |
cparr@realcomm.com
Energy Efficiency in Buildings - Technology Helping to Set New Benchmarks - 5/4/2017
Most people understand that we do not operate our buildings at the peak of efficiency. Unlike most other industries ranging from automobiles to airplanes, we have not taken full advantage of the extraordinary amount of data that could be extracted from our buildings. This webinar will showcase some of best examples of smart building analytics.

Register now!
---