Print this article
Enhancing the user experience is imperative today for all businesses focusing on true value for their customers. For commercial real estate, that experience extends to lifestyle, as customers live and work in the buildings we design. We sat down with Sandy Jacolow, CIO at Silverstein Properties, as he shared his views on customer focused methodologies. Sandy oversees technology initiatives that support the company's financial, operations and development activities, and has been active in the real estate industry for over 30 years.
Tell us about your typical workday.
With each passing day, personal computing drives transformational change beyond real estate. Digital platforms like mobility, cloud computing, big data, internet of things, virtual reality and social video are leading the way. As a result, the words "typical day" no longer exists in a CIO's vocabulary. Brian Solis best described this shift as Digital Darwinism, "The phenomenon that occurs when technology and society evolve faster than an organization can adapt."

Ironically in our digital age, soft skills like communication, self-awareness and education are key to building a spirit of collaboration while fostering an alignment of business objectives. A CIO must strive to tailor a multifaceted message addressing the mosaic tapestry of user demographics and functional responsibilities. To build a sustainable consensus, I continually apply a fundamental life lesson I've learned: it is not about how I perceive a message is being delivered, but how it lands on others. When championing change, we must always be prepared to answer the first question we will be asked, "What's in it for me?"

What technology initiatives are priorities this year?
I believe it is less about a single emerging trend, and more about the convergence of multiple disruptive technologies. With the evolution of seamless integration between technology and physical assets, real estate owners and developers are reinventing how we deliver services and information to employees, tenants and residents. As a result, technology has morphed from supporting our business, to being the fabric of our business.

Mobility, the defining technology of our generation, has become the proverbial bridge connecting IoT devices, opening a window into holistic real-time information. Hence, ensuring ubiquitous network access and wireless coverage in our buildings is a perpetual endeavor.

For perspective, consider that a building engineer's primary tool is now their mobile device. From this new paradigm, our operations team is continually receiving predictive updates from core infrastructure systems, can view architectural drawings on the fly or remotely access Building Management System (BMS) information in seconds. As a result you achieve proactive responsiveness, more efficient service levels and reduced operating costs.

Leasing brokers are now equipped with mobile devices for seamless access to stacking plans, floor plan and space information. When in the field, they can search existing inventory to best match a prospective tenant's need. Upon completion of a tour, they can send a personalized thank you e-mail including relevant floor plan and images. Concurrently, each event is updating a back-end CRM system providing real-time visibility, dramatically improving communication and transparency.

However, the increasing risk and exposure from a cyber attack must be factored into every system integration or point of connectivity decision. A single cyber event or data breach can severely damage a brand or reputation along with significant financial implications. Simply put, the specter of cyber attacks should keep every CIO awake at night.

How do you ensure buy-in of these new initiatives?
Contrary to the Field of Dreams' "If You Build It, They Will Come", a poor user experience and interface will doom even the best and brightest of ideas. When the connected customer is royalty, and digital content is king, user experience is the Holy Grail. User Experience (UX) encompasses all aspects of the end-user's interaction with the company's services. These extremely visual concepts which weave through the fabric of today's new digital ecosystems were once skills considered for a marketing employee and rarely envisioned for technology. Master Technologists are akin to a new age Renaissance woman or man, knowledgeable and proficient in a wide range of digital platforms, visualization artistry and soft skills.

For example, we recently embarked on a major initiative targeted to enhance our residential leasing process. Our mandate was to provide greater transparency into information while reducing the number of system touch points. Achieving this goal would require overhauling large components of existing workflows by leveraging new technology platforms and system integration. To help sell our vision we implemented the digital approach of storyboarding. First developed by Walt Disney, storyboarding utilizes illustrations and wireframes, enabling users to visualize a solution in familiar and relatable terms. Through this technique we could paint a picture of how these changes would enhance user experience, while producing efficiencies. Beyond these visualizations, we also scheduled a series of more traditional meetings, to illuminate how our new digital approach would also ease existing pain points.

What are the major trends you see and how is technology influencing those trends?
The two trends that I am keeping a close watch on are Virtual Reality and Social Video. Steeped in architecture, real estate is a very visual asset class. I believe Virtual Reality is destined to have a measurable impact. It has the potential to reinvent how we view the entire lifecycle, starting with a building's design through providing an immersive experience for clients. Allowing tenants to walk their space before construction even begins translates into a more personalized and customized user experience. Ultimately, Leasing and Asset Management will be able to calculate more accurate development projections, which means 'no surprises' after the space is built and ready for occupancy.

At the intersection of knowing your audience, knowing where to find your audience and knowing when your audience is watching, is where you will cultivate your foundation for marketing success. Engaging with social video is fast becoming the preeminent method of connecting with your audience. When properly curated, social videos are authentic, personal, conversational, and tell a story. Facebook and Snapchat have surpassed eight billion daily video views and YouTube's one billion-plus users are watching millions of hours of video every day, hence the potential for engagement is phenomenal.

The future of customer focused technology in all its forms will be the preeminent topic at Realcomm | IBcon 2017, which will be held in San Diego on June 14-15 (June 13: Precon | June 16: Innovation Tech Tours).

---
This Week's Sponsor:
AwareManager provides facility management solutions for the world's most recognized facilities and organizations, including world-class commercial and residential property portfolio management firms, corporations, sports organizations and hospitals nationwide. Visit www.awaremanager.com.
Next Week: Special Edition
Realcomm News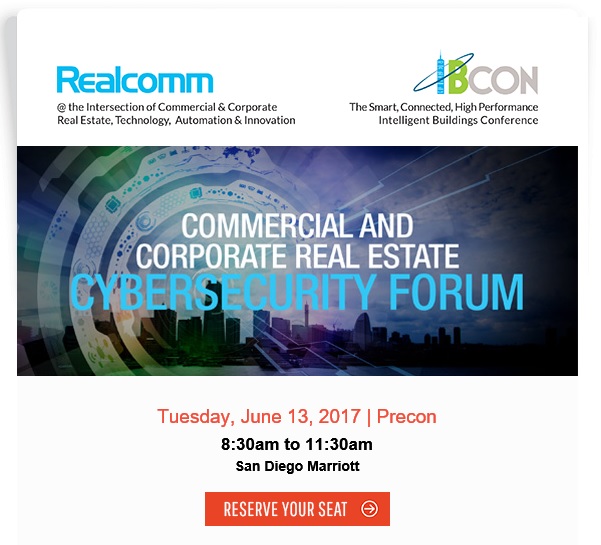 Join Us for the CRE Industry's Most Important Cybersecurity Event on June 13!
Over the past decade, weaponized code delivered by malicious actors has evolved to be one of the greatest threats to our country's welfare and economy. Cybercrime affects everyone, from individuals to enterprises to government. It was inevitable that cyber threats would eventually find vulnerable commercial real estate targets, both at the enterprise as well as building infrastructure level. To make matters worse, the threat of breaches increases as IoT becomes more integrated into our commercial real estate assets and our daily activities.
This Forum will bring together industry thought leaders to address the most impactful cyber threats, leveraging experience and knowledge to set benchmarks for cybersecurity strategy.
You must be a
registered
Realcomm
|
IBcon
conference attendee in order to attend the Forum.
Space is limited,
so once you are registered for the conference, please RSVP to:
Cheri Parr
| Phone: 310-421-4362 |
cparr@realcomm.com
Energy Efficiency in Buildings - Technology Helping to Set New Benchmarks - 5/4/2017
Most people understand that we do not operate our buildings at the peak of efficiency. Unlike most other industries ranging from automobiles to airplanes, we have not taken full advantage of the extraordinary amount of data that could be extracted from our buildings. This webinar will showcase some of best examples of smart building analytics.

Register now!
---