Print this article
Mechanical, Electrical and Plumbing (MEP) systems are a major component of every building. Without these fundamental systems, buildings would not be able to function. Over the years, early adopters have suggested that broadband should also be considered a utility and be included in every building's infrastructure.
When evaluating building networks, it is also important to recognize that they are different from traditional building automation. Historically, each building system such as HVAC, lighting, lifts, access, surveillance, parking and others were completely independent. Their cabling, device connectivity and functionality were all proprietary and controlled closely by the manufacturer. If you had eight systems in a building, you had eight cabling runs and never the two shall meet.

A networked building operates in a completely different way. In this scenario, a standardized IP network that includes twisted pair copper, fiber, patch panels, and networking gear both fixed and wireless is installed from top to bottom. The configuration takes into consideration all the various building systems that will connect to the building network. The number of devices, the location as well as the data throughput will all contribute to the final configuration. Cybersecurity and business continuity will also need to be assessed in the final design.


Once the network is in place, device connectivity must be addressed. While there are some building system manufacturers that deliver IP ready equipment, many buildings have old technology that is more proprietary in nature. In this case, controller, gateways and other integration systems need to be put in place to connect the old disparate systems with the new IP network. Protocols such as BACnet, Lon, Modbus and others all play a role in this connectivity strategy.

A Networked Building requires skillsets from two different domains of the traditional organization. Facilities or operations has a deep understanding of the building systems that keep buildings running, Information Technology (IT) is responsible for keeping business systems and IT networks operational. Now that buildings are becoming smarter, these two domains must work in conjunction, providing the combination of skills required to create a networked building. It is safe to say that the marketplace of professionals who possess both IT and OT technical skills is small but growing.

There are many business reasons to have an IP network as a central component of a building infrastructure in line with other building systems such as mechanical, electrical and plumbing: 1) disparate cabling systems are eliminated; 2) data is normalized on IP standards; 3) integration and interoperability become easier; 4) device replacement is easier and less expensive with the standardization of a network; and 5) maintenance of a singular network becomes more secure and efficient.

To better understand the reality of networked buildings in the marketplace we asked a couple of different companies to weigh in. Oxford Properties, a major international commercial real estate owner and operator based in Canada and Operational Technology Integrators (OTI), a master systems smart building integrator with installations worldwide. These diverse perspectives offers insight from both the demand and supply side of the market.


Brian Turner, OTI
When exploring a one building/one network strategy, there are more things to consider than just the network itself. It is important to also understand who will manage the network. Does this person have the expertise required to manage all devices and applications connected to this network? What are the unique security requirements of both users and data on the network?

Integral to a converged network is a true IoT staff who recognize that user data and transactional data on the information technology network is very different from the device data collected by cameras, HVAC controllers, lighting controllers and meters on the operational technology networks. A one building/one network strategy is great if staff is equipped to deal with the ever-expanding OT networking needs—including remote access, enhanced security, real-time and predictive analytics.

In my opinion and experience, it takes more money and more time to train existing IT staff on the operation of OT devices than it does to work in the reverse, bringing in specialized IT experts when necessary to enhance and expand operational technology networks.


Andrew McAllan, Oxford Properties
Oxford's smart building strategy demonstrates our commitment to industry leadership. By the end of 2017, our Canadian office and retail portfolios will feature converged fiber networks giving tenants a holistic view and real-time insight into their building operations.

What does that mean? It means our tenants have a detailed line of sight to all aspects of the building systems that support their space. It means a deeper understanding of each data point independently and in the context of all others. It means they have a much clearer view of the opportunities to meaningfully improve the operation of their space and the experience and comfort delivered to their teams.

Our extensive customer research shows us that office building occupants want their space customized to their own personal preferences in lighting and HVAC, and they want to control that customization. Our smart building strategy makes that control and customization a reality. Space can be a tool to accelerate business—a tool to accelerate employee productivity and engagement. Our smart building strategy ensures this opportunity is a reality.

In our retail portfolio, we have invested significantly in smart technologies that enable integrated data analysis and deliver a very powerful business tool. We know how people shop, when and where they shop, how they move through space. We can improve shopper comfort that leads to longer shopper visits and greater shopper spends. We can pilot easily and see results immediately. The benefits to our tenants and customers are tangible.

It goes without saying that investing in converged fiber networks and upgrading systems drives operating cost savings. We are committed to making these investments and passing those savings on to our customers.

Designing, implementing and supporting Building Networks will be one of the core program components at IBcon 2017 which will be held in San Diego on June 14 and 15 (Precon: June 13 and RE Tech Innovation Tours: June 16). For more information or to register, visit www.realcomm.com.
---
This Week's Sponsor:
Now in its fourth decade, Yardi® is committed to the design, development and support of software for real estate investment management and property management. With the Yardi Commercial Suite™, Yardi Multifamily Suite™, Yardi Investment Suite™ and Yardi Orion™ Business Intelligence, the Yardi Voyager® platform is a complete real estate management solution. It includes operations, accounting and ancillary processes and services with portfolio-wide business intelligence and platform-wide mobility. Yardi is based in Santa Barbara, Calif., and serves clients worldwide from offices in North America, Asia, Australia, Europe and the Middle East. For more information, visit www.yardi.com.
Next Week: Corporate Real Estate
Realcomm News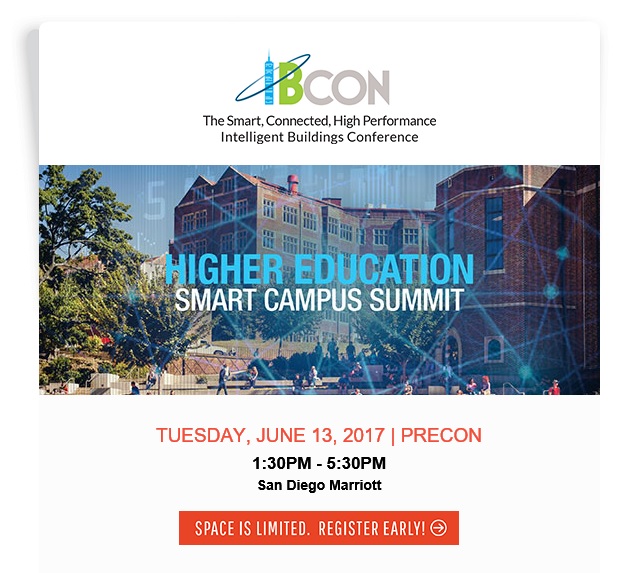 In its second year, the
Higher Education Smart Campus Summit
is quickly becoming a must attend precon event for colleges and universities. You will not want to miss this very exciting and timely event if you are a
university professional in real estate, facilities, operations, energy or sustainability
. Join us to see what the next generation university smart campus will look like!
A group of industry thought leaders in the higher education space will address topics such as wide area building networks, IP-enablement of traditional analog devices, building operating system selection, developing a strategy and more.
You must be a
registered
Realcomm | IBcon conference attendee in order to attend the Summit.
Space is limited,
so once you are registered for the conference, please RSVP to:
Tina Danielsen
| Phone: 619.972.5369 |
tdanielsen@realcomm.com
Smart Building Analytics - Running at the Peak of Efficiency - 3/23/2017
Most people understand that we do not operate our buildings at the peak of efficiency. This webinar will showcase some of best examples of smart building analytics.

Register now!
---
Technology in the Workplace - Managing the Needs of Multiple Generations - 4/6/2017
Technology is used differently by various generations and companies are being forced to deal with the needs of Baby Boomers, Generation X and Millennials. Workplace design, digital support platforms, policy and procedures and culture all need to be addressed and rethought. This exciting and timely webinar will discuss both the human and technological issues associated with this massive generational integration.

Register now!