ADVISORY NEWSLETTERS

Vol. 10 No. 49 – 12/16/2010
Integrating Your Leasing Information With Your Floor Plans
Annette Wilde, Planimetron Inc.
It's difficult to dispute the sheer power of visually presenting lease information on a floor plan. When you integrate hard data with your floor plans, you can see things that you would not get from a spreadsheet or a pie-chart. Trends and relational dynamics pop right out at you.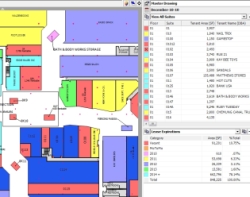 According to Glenn Featherstone, VP Retail Leasing at Monguard Investments, a leading real estate management firm with over 55 shopping centers in North America, "In retail, spatial relationships are what people pay for. We are in the business of leasing' locations' not just 'space.' A dynamically generated plan is critical to answering qualitative questions such as: who is next door to me, what is the sales performance like, where is the traffic, what is my frontage and advancing any discussion with a tenant."

Setting out to get clean data displayed on accurate, time sensitive drawings is not for the weak of heart, but the rewards are well worth it. When you get the eyeballs of just about everyone in your organization (as well as your tenants and shoppers) looking at this information, data, communications and decisions gets better. Everyone is looking at the same thing at the same time, each from their individual perspective.

So why is integrating your data with floor plans such a difficult thing to do? Here are some things you may run into.

Multiple versions: Whose floor plan is it anyway? You may find multiple drawings out there: leasing (focusing on what you would like tenants to see), development (showing what ultimately the floor plan is going to be) and measurement (illustrating how we got to the calculated areas we are using in our leases). Deciding which way to go can be a challenge.



Timing issue: When is a Deal a Deal? If you know that a space is going to change sometime in the future, when do you record that space change on the floor plan – is it when you know about it or when it is actually done. And what do you do if something happens in the meantime that affects that future change?



Complexity: Not everyone knows Computer Aided Design. Almost everyone in the organization benefits from seeing and interacting with floor plans – from property to leasing to asset management. But, how do you make the experience rich enough and user-friendly enough for non-CAD experts? Traditional CAD tools require weeks of training and knowledge.



One of the common data definition struggles is What's up with the area? It is bad enough that a unit can have both an official "rentable" and "useable" areas, but it also has a "leased" area (according to the lease agreement) and then to top it all off, a calculated rentable and useable area that is derived from the physical attributes of the drawing. If you deal with office properties and you subscribe to BOMA area measurement rules, your units' areas are changing every time you make changes to common floor and building areas.
Chuck Becker, Architectural Systems Manager at
Vornado Realty Trust
, with over 100 million square feet of office and retail properties, comments,
"Biting the bullet and integrating our CADs with real-time property management system data has been one of the most difficult, but one of the most valuable things we have done. We are now able to generate the scenarios for our leasing people, the target area numbers for our budgets and area analysis for our financial guys upon request."
You can see directly on the floor plans where you have available space, what spaces are next door to one another, who occupies the space around and what spaces are turning over and when. Trends "appear" as you look at a floor plan over time. For example, what parts of the floor are doing better than others (in terms of sales, rents, etc.). Encumbrances and other exposures "jump out" at you and help you focus in on what you need to know.
Scot Adams, CIO of
Cadillac Fairview
, one of Canada's largest retail shopping center developers, says,
"We have been able to marry the architectural dynamics of our shopping malls with our existing data systems in a way that allows us to address the needs of multiple audiences internally and externally. Internally, our staff can mine for things such as sales, occupancy cost and traffic trends and see the results in a geo-spatial format on the floor plans. We extend components of this information externally to support the needs of tenants, brokers and shoppers by providing interactive floor plans on our websites."
This Week's Sponsor

Bringing the floor plan drawings to the forefront of your property information system brings powerful graphical visualization of what was, what is, what will be and what might be. Planimetron Inc. is the leading vendor in providing business intelligence tools for the real estate industry with a special focus on data visualization tools to address the challenging task of combining data with floor plans. For more information, visit www.planimetron.com. Also, for further reading, click here for the Cadillac Fairview Case Study
UPCOMING REALCOMM WEBINARS
Understanding the Next Generation of Smart Buildings – A CASE STUDY Showcase - 1/17/2019
There are many different opinions on the definition of a smart, intelligent, connected, high-performance building. Energy conservation, operational efficiency and occupant experience are the three fundamental pillars of a smart building. While some take the path of first exploring the technology options, others find greater value in studying completed projects that have incorporated the technology. Case studies provide the opportunity to review the technology decisions as well as the organizational issues and planning processes involved in creating a next generation project. This webinar will present the most successful and notable smart building projects in the world. Project leaders will share their vision, successes and challenges!